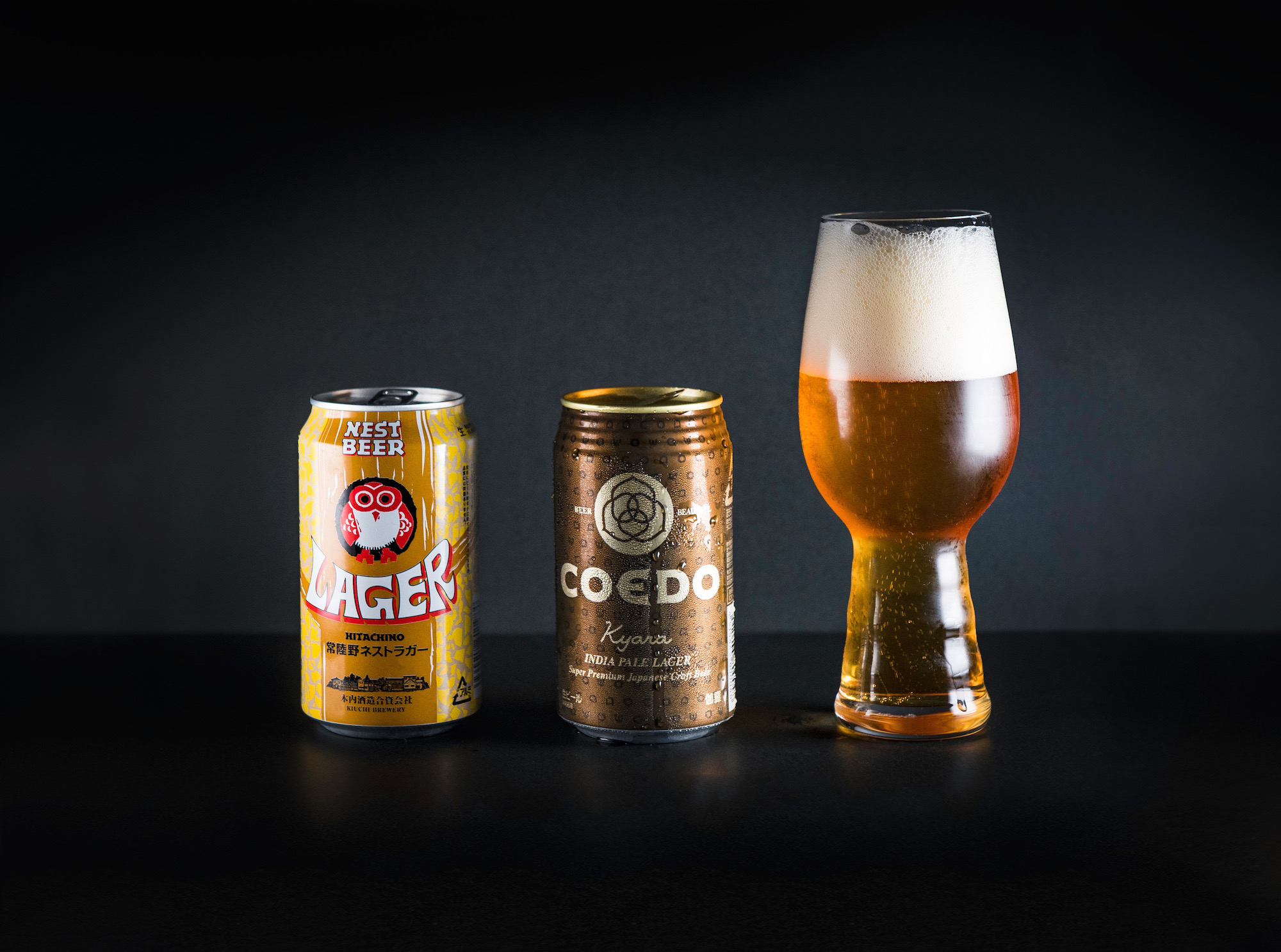 The craft beer movement, particularly in the United States, has long positioned itself as the antidote to the fizzy yellow lagers that were nearly all you could find prior to the recent boom in mainly top-fermented craft beer. Many brewers thought it unnecessary to bother with craft lagers, and many young craft beer drinkers seem unable to recall ever having tried a lager that impressed them as worth drinking. Of course, the truth of the matter is that traditional, hand-crafted, and characterful lagers have continued to be brewed in many parts of the world. Now, alongside these comes a new trend towards making contemporary, craft versions of these classics. As with craft ales, one of the main approaches to these beers has been to seek new and experimental uses of hops in them, thus just as the India pale ale has become the paradigmatic craft ale, so too has the India pale lager become the new touchstone for craft lagers.
This trend has been slightly less visible in Japan, where many well-loved craft brewers have long specialized in lagers. Lager lovers here are blessed with fantastic specimens from several breweries specializing in bottom-fermented beers. Lately, however, in Japan as well as North America, the hoppy lager is catching on, and it promises to further add variety to our craft beer scene.
It is possible to find pilsners and other lagers in Germany and the Czech Republic that are extremely well hopped. Anyone who has tried a fresh sample of Jever or Bitburger knows this, and there are many others. Fujizakura and Baeren in particular have long experimented with hopped-up pilsners in Japan as well. The difference between these beers and IPLs, however, is less in the amount of hops used than in the type and in the timing. Generally speaking, India style lagers use New World hops (more recent hop varieties generally grown in the US, Australia and New Zealand, as opposed to traditional ones from Europe), the same kinds that we have come to love in our IPAs. Most practice very late hopping to enhance aroma without adding bitterness, or even dry hopping, a technique that is not used in traditional lager brewing.
There is certainly a bit of overlap in these styles, but I think that a survey of how the style names are used in Europe, America, and also recently in Japan will generally bear out my definition. To give one example, Fujizakura's 2017 Honto ni Nigai Pilsner used a new varietal of German hops for huge flavor and bitterness, but their new 20th Anniversary IPL uses Citra hops for a big citrus aroma. Both follow traditional German practice in eschewing dry hopping, but the IPL is more focused on aroma.
One of the earliest hoppy craft lagers in the US was Brooklyn Lager, first brewed way back in 1988. It is more of a traditional, "pre-prohibition" American lager than an IPL, but its influence is hard to overlook. Amber in color and dry hopped with Cascade, it has long been a benchmark that people look up to. In his book on lagers, Dave Carpenter surmises that the first IPL may have been 2007's Sword Swallower from Coney Island Brewery. This beer, now retired, claimed to be an "IPA with lager yeast" that used eight varieties of hops. A quick search shows that Ballast Point Fathom IPL was made at least as far back as 2006, and I remember my first taste of it on tap in Japan in early 2010. A few months later, Yokohama Brewery's Dragon Splash was released and it was just as good. Baird has made its excellent Hatsujozo as an IPL at least as far back as 2011.
Why make an IPL, instead of just sticking with what works? I've personally heard this question from several beer lovers–some who prefer IPAs, others who go for traditional pilsners. One answer is that the cleaner, less estery lager fermentation can let the hops shine even more than in an ale. Depending on the malts used, you can produce a crisp, clean lager with very little yeast-derived flavors to conflict with the hops. And especially in the summer, an IPL can feel more crisp and refreshing than an IPA. It also seems to me that the lager yeast, when used with pale pilsner malts, works much better in imperial-strength versions, where ale yeast can produce too many fruity flavors and a heavier body. An IPL can be especially crisp and refreshing after a bout of sweet, juicy New England IPAs. A Cascadian dark lager, using dark malts, is also a nice alternative to a Black IPA.
America is home to an undisputed giant of IPL brewing. In Massachusetts, surrounded by NE IPA brewers, is Jack's Abby, a lager-only brewery that has made the IPL its business. Beers like Kiwi Rising, Excess IPL, Hoponius Union, and their Hopstitution series have come to define the hoppy craft lager in America. Sadly, the beers are not yet imported to Japan.
Several brewers in Japan have been experimenting with the style as well. Besides those mentioned above, Chateau Kamiya, Hideji, Y. Market, Kure, Akashi, Shimane, Daisen G, Oni Densetsu, and Yorocco have all produced one or more very clean and hoppy IPLs, although most of these have been limited releases. There are three in Japan that are ubiquitous year round and should be the start for anyone newly interested in the style. Coedo Kyara has been an IPL since its 2012 re-formulation. It is an amber-orange color, using a bit of caramel malt, and features the grape-and-citrus notes of Nelson Sauvin hops. Cans can be found almost anywhere, as is also the case for my new go-to refresher, Oh! La! Ho Captain Crow Thrash Lager, which also features Nelson hops but with an entirely pale malt bill, which enables the hops to shine even better. Hitachino Nest Lager has been a mainstay since 2014 and is also available in cans. It is pale colored to feature a big burst of four different hops, of which Nelson is again the most noticeable.
I love pilsner on the one hand, and IPA on the other. The India Pale Lager is somewhat like the cousin that connects the two styles. Some might say it's the best of both worlds. In a craft beer world where some might tire of big, syrupy West Coast double IPAs or their juicy, sweet-and-wheaty New England style counterparts, the IPL offers something just a little different: a bit more traditional yet a bit newer, a bit crisper and cleaner. That's a welcome choice to me. Just make sure mine is super fresh.
---
All Beer Styles articles are written by Mark Meli, author of Craft Beer in Japan.
---
This article was published in Japan Beer Times #35 (Summer 2018) and is among the limited content available online. Order your copy through our online shop or download the digital version from the iTunes store to access the full contents of this issue.