When the opportunity to study whiskey and beer pairings last year presented itself, I didn't hesitate to seize the moment. It was particularly enjoyable research (actually still ongoing!) and also a stimulating lesson for the taste buds. Perhaps you are like me, with a palate more attuned to beer. During the week, it's probably more common for most of us to have a taste of beer than whiskey, which many reserve for a special treat. But it helps to broaden one's sensory skills. Proximity to payday may also greatly influence the decision to experiment more in pairing the two.
As a fan of the barrel-aged beer craze that's reached a fevered pitch during the last few years, I have thoroughly enjoyed trying as many different creations as I can. An endless stream of combinations continues to be released and it doesn't appear to be slowing down: beers aged in barrels that previously were home to bourbon, whiskey, wine, champagne, brandy, rum, tequila, you name it. Then there's all the souring combinations, not to mention infusions with fruit, coffee, vanilla beans, any number of spices, and whatever our brewing friends fancy is worth an experiment. And, of course, don't forget the type of wood used for the barrel (often in the oak family) and whether it is charred or not, virgin or had a preceding liquid resident. Blending schemes also come into play.
Now while craft beer drinkers have been pondering all these variations, there were likely a few people out there in a whiskey distillery saying, "Hey, what if we added a new wrinkle to this? Could I have the barrels I sent to have beer aged in them sent back to me for another round of whiskey?" Jameson Whiskey's Dave Quinn, a 30-year veteran of his craft who carries the uber-cool title of Master of Whiskey Science, wasn't quite at that point yet when he stopped by a neighborhood pub in Cork, Ireland one evening, but the wheels were turning. He started up a conversation with fellow Cork local Shane Long, founder of Franciscan Well Brewery, one of Ireland's most renowned craft beer breweries, and a plan was hatched to send some Jameson Original barrels to be filled with Franciscan Well's Irish Stout.
While not a revolutionary concept at that point in the game, it did end up being the beginning of a wonderful partnership. The beer (Jameson Stout) went on to win gold at the 2013 International Beer Challenge. Then the two men arrived at the scenario put forth above. After roughly one month of storing Irish stout in them, the Jameson barrels found their way back home to be refilled with whiskey for a finishing touch. After about six months taking on a new flavor profile in the stout-seasoned casks, the whiskey was ready to make its debut. In 2014 the new product, "Caskmates", was introduced to the drinking public. With added notes of chocolate, butterscotch and coffee, the whiskey had evolved beautifully. The experiment was deemed a success–one that all involved felt they could build upon.
The project with Franciscan Well also paved the way for more opportunities and fun experimenting. The Jameson team reached out to the US craft beer market for some new partners to work with. They started in 2014 collaborating with Brooklyn's KelSo Beer. KelSo's brewmaster Kelly Taylor decided to age an IPA in the Jameson barrels. This project was such a success that they decided to expand it to more breweries. This became the Jameson Caskmates Drinking Buddies program. In 2015 Jameson partnered with five U.S. breweries, building on that with seven in 2016. Much to the American drinking public's delight, this year that number more than doubled to sixteen craft breweries.
One very important note: after all of the barrels are emptied of beer, they go back to Ireland for the Jameson team to experiment with. After journeying home, the barrels find themselves in the hands of Quinn. There are many technical decisions to make if the barrels are filled with whiskey. Generally, a whiskey already aged four to seven years is used. For the Caskmates series, the matured whiskey will spend about six months in the returned barrels. As the timing plays a critical role in the final product's flavor profile, there is no end to the testing. I imagine Jameson receives a river of resumes from those interested in this line of work.
The other major factor influencing the character of the whiskey is the barrel itself. Fifth-generation cooper Ger Buckley and his crew are in charge of inspecting and maintaining all of Jameson's massive collection of one million oak casks. Trying to envision the storage facilities for such a tremendous quantity of barrels boggles the mind. Buckley's team inspects 1,800 barrels a day, so doing the math, they would need a total of 556 days to go through the entire inventory!
In addition to the Franciscan Well collaboration that lead to the production of the Caskmates Stout Edition, the two companies worked together again to develop a Caskmates IPA Edition this year. Still in the experimental stage, only 2,000 bottles were released in Ireland. Jameson also formed a new partnership with Young Henrys, an Australian brewery in Newtown, New South Wales (just south of Sydney). The beer aged in Jameson casks became Young Henrys Craic & Barrel Irish Red Ale. Some of Young Henrys team then followed the emptied barrels back to Ireland and met with Quinn and Buckley to have a meeting of the minds. They also got to sample the whiskey that was reintroduced to casks they used–what was to become Jameson Caskmates Young Henrys Edition (only available in Australia).
Earlier this year, in our spring 2017 edition (JBT#30), we wrote about the partnering of Jameson with local Tokyo brewery, DevilCraft. They aged both an Imperial Stout and Imperial Rye Brown in the loaned Jameson barrels then wrapped them up to be returned to Ireland. The beers were well-received and, as one might imagine, disappeared quickly. It remains a mystery as to what experimentation occurred after the barrels found their way home to Cork. Could we see a special Jameson Caskmates DevilCraft Edition? If so, no one is divulging that information. It seems we'll just have to wait and see.
What we can find in Japan at this current point in time is the original Stout Edition of Caskmates (the Franciscan Well collaboration). Sales in Japan launched on September 4th of this year, fittingly at an event at DevilCraft Gotanda. You can find it at a number of craft beer bars (see below). I'm a strong advocate for drinking fine whiskey like this neat, or on the rocks, if you must. In my opinion, it's the only way to get intimate with it and to truly understand its depth of flavor. Don't be afraid to pair it up with an equally fine ale or lager, though. I hope you enjoy your research as much as I have.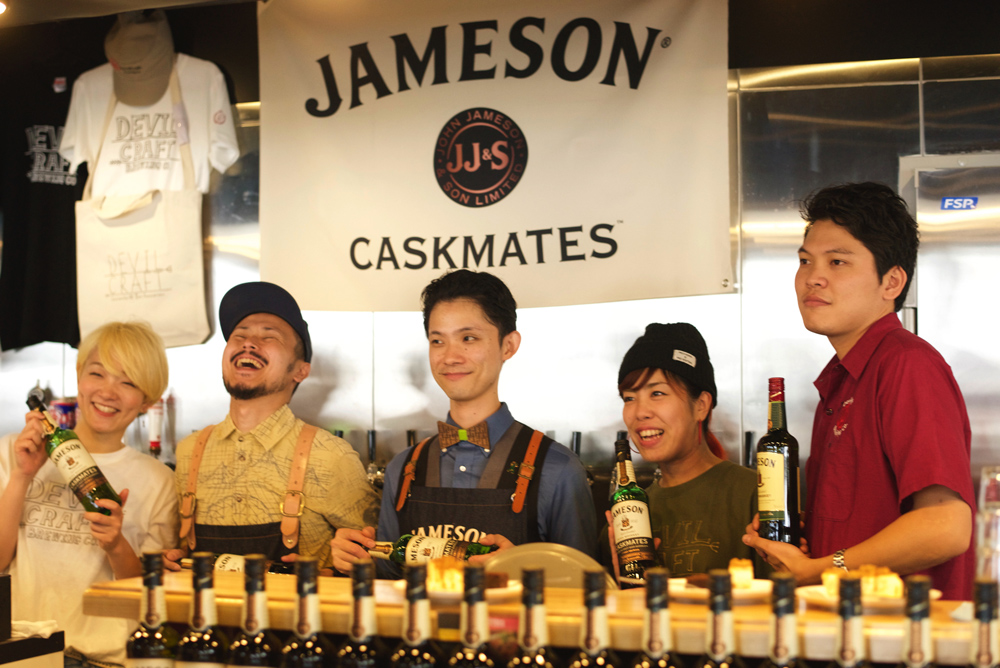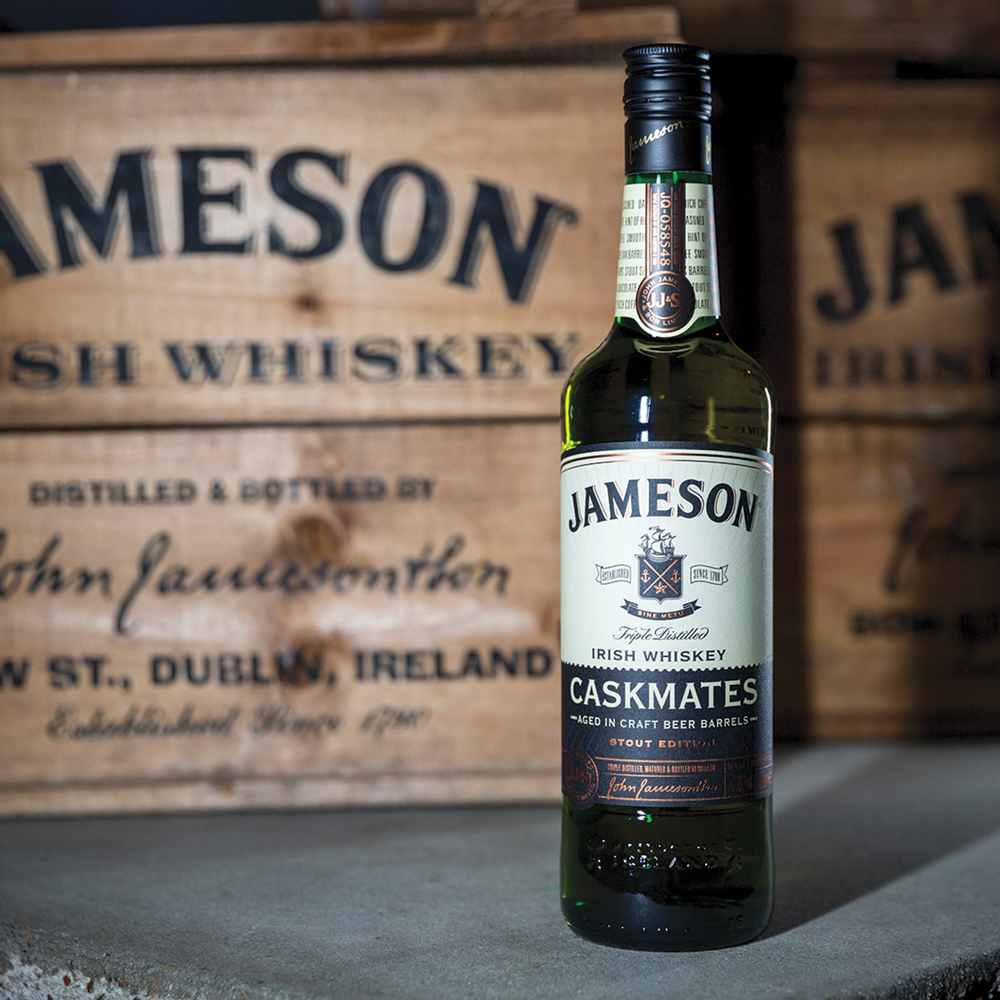 Caskmates can be found at the following bars:
DevilCraft Gotanda デビルクラフト五反田
〒141-0031
東京都品川区西五反田2-7-8
誠實(せいじつ)ビル9F
050-3188-9978
http://en.devilcraft.jp/
DevilCraft Hamamatsucho デビルクラフト浜松町
〒105-0013
東京都港区浜松町2-13-12
ライズウェルビル1F
050-3188-9941
http://en.devilcraft.jp/
Failte フォルチェ
〒150-0043
東京都渋谷区道玄坂1-5-2
渋谷SEDEビル 5F
050-3468-2567
http://failte.jp/about
BEERPUB NONSUCH ビアパブノンサッチ
〒171-0021
東京都豊島区西池袋5-1-6 2F
03-3981-4811
http://beerpub-nonsuch.com/index.html
Belgo ベルゴ
〒150-0002
東京都渋谷区渋谷3-18-7
渋谷第一号ビルB1F
03-3409-4442
The Aldgate British Pub ジ・オールゲイト
〒150-0042
東京都渋谷区宇田川町30-4
新岩崎ビル3F
03-3462-2983
http://www.the-aldgate.com
Wasserfall ワサファル
〒150-0043
東京都渋谷区道玄坂1-11-1 404
03-3464-5120
Yakitori RYO 炭火焼き鳥RYO
〒920-0852
石川県金沢市此花町2-6
050-5828-1091
http://www.r-y-o.com/sp
The Craft ザ クラフト
〒064-0804
北海道札幌市中央区南4条西4丁目
松岡ビル 1F
011-241-5555
http://the-craft.jp
Takoyaki Bar Tom たこやき BAR トム
〒460-0003
愛知県名古屋市中区錦3-13-29
ABCビル南館4F
052-971-2388
If you want to learn more about Jameson Caskmates, follow this link: www.jamesonwhiskey.com/jp