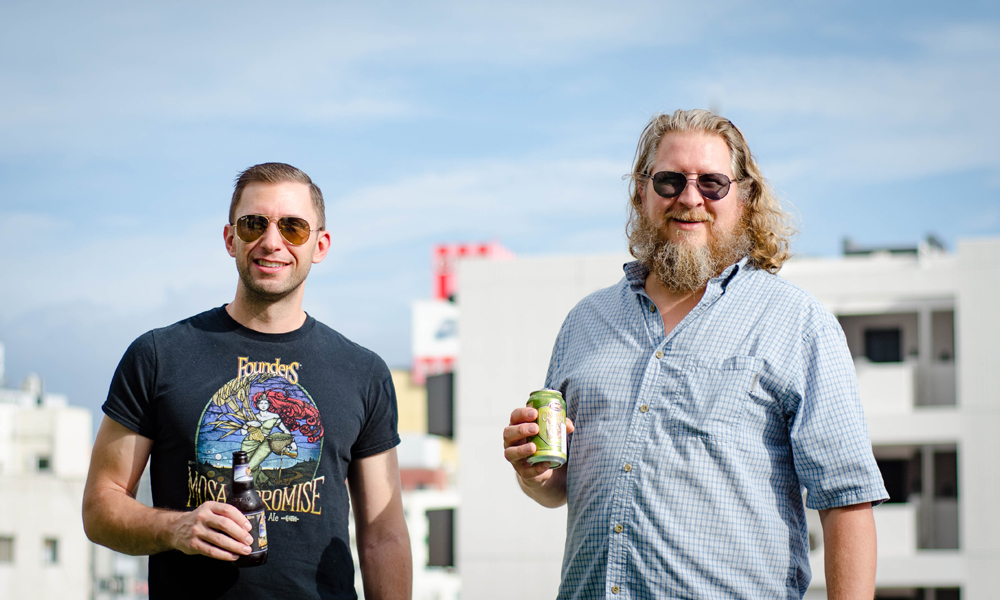 In October we had the opportunity to sit down with Dave Engbers (Co-founder and President) and Brian May (VP of International Sales) of Founders Brewing Company during their first visit to Japan. It's been almost a year since we introduced them to you in our 2016 winter issue. As one might expect in the constantly evolving, dynamic world of craft beer, a great deal has happened in that time span.
Recently, Founders completed a roughly $42 million expansion, adding a 300bbl brewhouse (dubbed "el Gigante"), modifying their current canning line to crank out about 400 cans per minute, and adding a new high-speed bottling line. Next up is a new high-speed canning line expected to put out nearly 700 cans per minute.
If that wasn't enough, they've just built another 192,000 sq ft brewery a mile south of their existing facility. Christened the "Barrel House", its main focus will be producing their barrel-aged beers and also acting as a warehouse out of which they plan to do all of their order fulfillment.
Seasonal capacity constraints was a driving force behind the upsizing. All breweries go through production peaks and valleys and May tells us for Founders the "fall is always the biggest challenge because of all the specialty beers that come out."
Engbers sees the Barrel House significantly leveling those peaks off. "We've got Breakfast Stout in the fall, which is a very high-volume brand for us, but at the same time, for us to age some of the barrel-aged products, they need to be brewed at similar times. We had one of these peaks that was difficult to get through previously. The new brewery will allow us to get through that a little bit more seamlessly, but it will also let us really focus on our barrel-aging products. Currently, I think we have about 14,000 bourbon barrels now."
Unless you've been living in a cave (without barrels of beer by your side, of course), you've not missed the growth in popularity of barrel-aged beers. Founders' 12.4%ABV Kentucky Breakfast Stout (KBS) sits somewhere near the top of pretty much every must-drink list of the barrel-aged category and, well, if you haven't tried it yet, please exit your cave with pint glass in hand. And then get ready for more. According to May, in 2017 they are going to be "taking the barrel-aging program to the next level." He continues, "There are going to be six barrel-aged beers that we are going to release. Right now we've got KBS and Backwoods Bastard that come out every year, but there will be four additional ones that we are really excited about. There are going to be some brands that we've made before and some that we've experimented with that people are really going to like."
So with barrel-aging production ramping up, could we see a popular seasonal beer like KBS available year-round? While we can expect more varieties of Founders' barrel-aged beers, it sounds like the answer to that question is "no". It's a very intense process to make beers like this, and as with any barrel-aged brew, it's very hands-on. Another thing to consider is that in general, people want what they can't readily obtain. Why do beer fans wait fifteen hours in the rain to get a ten-ounce glass of Pliny the Younger, that famed limited release seasonally produced by Russian River? Possibly because alcohol has softened their brains a bit, but mainly because they can't get that brew throughout the year. When release time rolls around, hype builds, people get excited and the beer sells extremely well. Why mess with that successful model?
Add to the Founders barrel-aging program a continuously growing demand for All Day IPA by the general drinking public, not just beer geeks, and they have a two-pronged approach to the market. Along with their traditional "big and bold" focus, can we expect to see a production spike in kinder, gentler beers?
Engbers replies, "Well, we've always been big and bold. Even All Day, I would say, is big and bold. What we've found is that All Day has opened up opportunities as the craft category continues to grow. It's pulling more people into the craft category. Unfortunately there's a consumer that only knows Founders for All Day, but if you talk to a beer geek, they know us from KBS, Double Dancer, Centennial IPA, Dirty Bastard, and the rest of our portfolio. So we really cut our teeth on what we refer to as the extreme beer movement. We were one of a handful of breweries that really put the accelerator down on beers that were 8% to 13% alcohol. That's where we built our reputation. That's where the personality of the brewery lies. And (the new) barrel-aged series will continue to let us innovate and that's part of the reason we started a breweryーto push the liquid envelope."
Engbers explains further, "I've always said that the beer consumer is never loyal. I think that they play the field, as we all do. If we all gravitate towards the same beer over and over again, it gets stagnant. I think it's our responsibility (at Founders) to create new brands and new flavor profiles to give everyone a great experience. I would say the vast majority of beer enthusiasts like to try new things and these segue beers are how they get introduced to craftーthat might be an All Day IPA, it could be a Dirty Bastard, something that doesn't have a ton of bitternessーbut once people acquire a taste for hops, then they tend to want more."
Right now, Founders can count consumers of their product in 39 states and 24 countries with Japan and Italy being the latest. Engbers sees being in all 50 states within two years and May, who has already been to 15 or so countries this year, will have his hands full growing the international market. Considering all the new build-outs, it looks like capacity constraints won't be an issue for quite a while. Given that, what products will be arriving on the shores of Japan in 2017?
Engbers says we can expect a good supply of Breakfast Stout. "We've got historical data on Breakfast Stout and it has done really well in every market it's ever gone into. It's a double chocolate, double coffee, oatmeal stout, so there are a lot of flavors that people are already accustomed to but maybe haven't experienced in beer form. I always say we don't do subtle really well, so if we say there is chocolate and coffee in it, you're going to know about it. It's just a really rich, smooth, easy-drinking beer that really seems to hit across the demographics."
May reveals a new release, saying, "It's called PC Pils, a hoppy pilsner that is doing really well. It just got released in the US (in early October) and it's basically almost sold out, so we're trying to catch up a little bit. Pilsners are big styles in many parts of the world, so we did one our way. I think it's a beer a lot of people will take to, especially in markets where the consumer is still transitioning from that industrial lager to something a little bit more hop forward. I think it's the perfect gateway beer. I'm personally pretty excited about that."
Engbers adds, the "pilsner style is a classic style, but this is our take on a pilsner. We took the style and 'Founderized' it using American hops. It still has all the aromatics that you'd expect from a Founders beer, but it's really light and crisp."
Concerning the previously discussed new barrel-aged beers, May says, "We have some KBS that's probably going to show up early in 2017. We had to switch the calendar. Now the export KBS will be arriving around January here on out. The next one after that is a barrel-aged cherry ale. As you know, Rubaeus is a raspberry ale that's doing really well. We think it's going to be a core style in Japan, so I'm excited to see how people like this new brew. We're calling it 'Frootwood.'"
Fast forwarding five years, what does the future have in store for Founders? Simply put, they will continue to do what they do. Engbers asserts, "As a product-driven company, that means staying focused on making sure we are brewing the absolute best beer that we can across all brands even though we've got styles that we've been brewing for 15 years. The beer that we make a month from now will be better than the beer we are making right now. We're constantly looking at making improvements to our process. But at the same time, it's our responsibility to innovate and create new and exciting brands without becoming a novelty."
May adds, "We're not driven by being big. We're driven by the evolving landscape of beer enthusiasts around the world. We believe really strongly in our liquid; we're proud of it. So we want to take it as far as the liquid will take us. We also have a very strong team, and everybody is entrepreneurial, everybody is driven to do their best work, and they really believe in the company. I think we've got an interesting cocktail of talent and very strong liquid that can take us pretty far."
Well, it's taken them all the way to Japan, so there must be truth to that statement. How was their first visit?
Engbers says, "Part of my motivation when we started the brewery is that beer is a social beverage, it brings people together, and that's one of the things we've been able to do here: meet beer enthusiasts, whether it's our partners or somebody in a bar. It's a social beverage and we get to meet people and get to know their stories."
"Just to add to that," Brian chimes in, "specifically regarding the beer scene, I've been really impressed. There are some really big fans of beer here. We were at a place yesterday called Watering Hole owned by a couple (Michiko Tsutsui and Fujiura Ichiri)–he's been brewing for twenty years. He visited our brewery in 1999 at our old location and he had one of our original pint glasses in the bar—pretty incredible. It's exciting to see people excited about beer. The places we've gone had great quality."
When asked what Japanese beers they tried and liked during their stay, it was apparent the pair clearly made an effort to drink local. Engbers was a fan of Baird, Kyoto Brewing and thoroughly enjoyed Thrashzone's "extreme beer only" approach. May had good things to say about Loco Beer and Hitachino Nest's Anbai Ale.
When entering a new market, both men agree that the beer culture has to change from the inside first. May tells us, "Someone like us is not going to be able to come to a country and create a beer culture. It takes an army of people that are on the ground doing it every single day, that have their livelihood on the line, to really grow a category. And so it's fun to try as much stuff as possible. There's been a lot of beer (here) that has been really clean which is the number one thing that I always look at."
While the beer scene is becoming increasingly crowded in Japan and in many other places in the world, one thing to always keep in mind is that competition breeds excellence. Surely some will drop out of the market, but the good beer will always survive and prosper. In the end, those of us that enjoy a frothy brew are the true winners. Let us not forget that the men and women making the beers we love are also consumers like us. And as Founders' slogan "Brewed for Us" implies, we can be assured they will continue making beers that they, and in turn we, like to drink. That's a win-win.