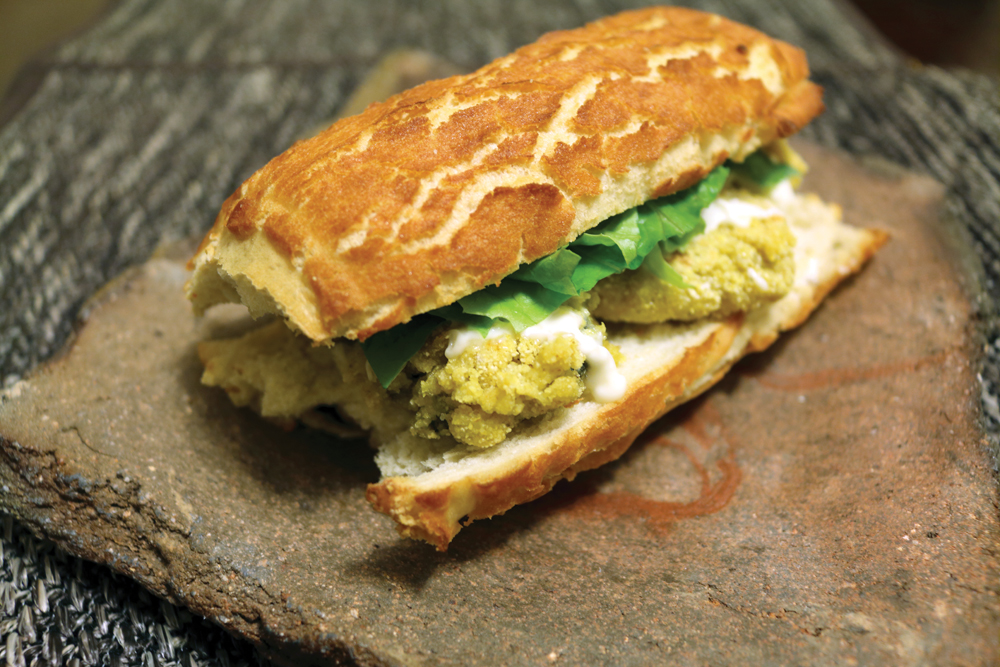 Ingredients
1 cups (8 fl oz) of shucked medium-sized oysters
1/2 tsp salt
1/2 tsp sugar
1 tsp curry powder
1/4 cup all-purpose flour
1/2 cup cornmeal
1/2 tsp black pepper
1 egg
1/3 cup milk
Oil
Sandwich roll or baguette
Butter
Mayonnaise
Cilantro (optional)
Pickled daikon and carrot sticks (optional)
Instructions
1. Drain oysters in a strainer. Rinse oysters and set aside to drain again.
2. In a bowl, mix half of the salt, sugar, curry powder, flour and cornmeal.
3. In another bowl, mix the remaining half of the salt, pepper, egg and milk.
4. Pat oysters dry with paper towels.
5. Coat each oyster with the cornmeal mixture, dip in the egg mixture, then coat again in the cornmeal. Put the coated oysters on a plate.
6. Heat a large skillet over medium to high heat. Add oil to film the bottom of the skillet. Re-coat any oysters in cornmeal mixture if needed. In batches, pan-fry the oysters for about 3 minutes, turning frequently, until they are crisp. Wipe the skillet of cornmeal and add more oil between batches.
7. After all oysters have been fried, re-fry any as needed so that they are crisp.
8. Cut sandwich roll or baguette in half lengthwise and toast.
9. Spread each side with butter. Lay fried oysters and lettuce on one side. Drizzle mayonnaise (and top with optional toppings) before placing the other side of the roll on top.
---
This article was published in Japan Beer Times #26 (Spring 2016) and is among the limited content available online. Order your copy through our online shop or download the digital version from the iTunes store to access the full contents of this issue.