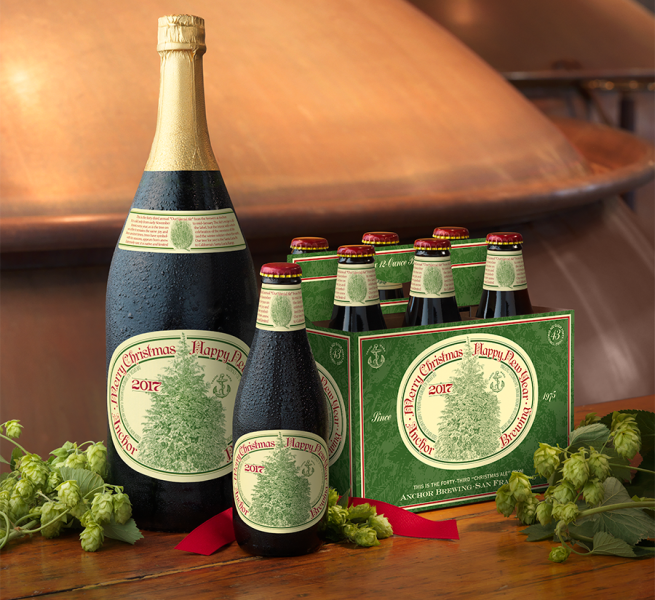 One of the things we often take conscious note of while scouring the world's news for beer stories to share in this digest is just how interesting the beer industry and beer culture is. It's like a magnet for the weird and wonderful, the smart and the creative, the entrepreneurial and adventure-loving of this world. If you check out headlines surrounding other popular consumer items like cheese or chocolate or even wine, for example, there's a lot less of the unexpected. It's like these people have proper images to maintain or something! Beer, too, seems to cut across demographics like few other products. That means beer news and developments emerge from a diverse array of situations and locations. Let's take a look at what this past autumn brought us.
One emerging trend that some industry observers are noting is the use of magnum bottles, the large-format, 1500ml torpedos that can't fail to grab your attention (or engage your biceps when pouring). While not uncommon in the world of wine and champagne, they are relative strangers to beer. Recently, more breweries are experimenting with this type of packaging. To our memory, Anchor Brewing Company has regularly released its Special Ale around the end of the year in magnum bottles, and we've seen Stone's Double Bastard in "double-magnum" (3L) bottles before, but little else. On digging deeper, we see that several Belgian breweries producing trappist beers have released their ales in the magnum format since pre-industrial times. These days, breweries like Leffe and Duvel continue the tradition. They are getting company now from craft brewers and industrial giants alike. Heineken and Miller High Life are trying the format out while among smaller breweries, magnums have been recently released by several notables, including Hill Farmstead, Allagash and Mikkeller. We don't expect the trend to catch on in Japan, however, where shelf space and shipping logistics are real concerns. But if a brewer wants to experiment with a larger format, we recommend the Melchizedek, the 30L behemoth of bottles. Why? Just because. And wouldn't it be fun to take one on the train for your next long ride with friends? You'd probably need to share with fellow passengers. A small, portable crane would be helpful, too.
Collaborations between breweries and businesses outside the beer industry are nothing new, especially if the non-beer partner is a supplier of a special ingredient like coffee or fruit. In recent years, however, businesses with little to no apparent overlap have been partnering with breweries for various promotional purposes. Dunkin Donuts, one of America's most famous donut chains, teamed up with Harpoon (a heavyweight in the New England area) to release a coffee porter. Actually, dipping a donut in that sounds rather good. And further to that theme, one item that Coedo recommends pairing with its Beniaka (sweet potato ale) is a donut–we've tried it and it works really well! More unusually, Planters Peanuts, the iconic peanut brand of America, collaborated with small Chicago-area brewery Noon Whistle for a peanut IPA. It sounds weird, but the Chicago Tribune newspaper's beer writer, Josh Noel, claims it's good. We actually had a peanut ale in Japan many years ago from Beer Hearn. It was rather tasty, too.
Speaking of weird, perhaps it's just in the eye of the beholder (or on the palate of the be-taster), but some things just don't seem like they would click. So how about this: a vegan avocado beer. In November, London brewpub Long Arm launched just that. It's called the Millennial Stout, in a nod to the "millennial" demographic group (commonly referenced in the West) that has embraced avocadoes to the point that it has become a meme and subject of satire (is embracing a healthy superfood so bad?). Although the beverage apparently has a creamy avocado flavor it is not, alas, a creamy avocado color. That would be weird. And somehow weirdly cool. Like an eggplant ale that is purple. And tastes like it has miso slathered on it… Wait. Why wouldn't we just sip beer while eating grilled eggplant with miso?
Ah, gimmicks and promotions… Fast food chain Arby's (in North America and parts of the Middle East) is experimenting with "beer can chicken sandwiches". This refers to an interesting way of marinating chicken, which we actually featured in our recipe section in this magazine years ago. Basically, you ram an opened beer can into the orifice of a whole chicken and grill it upon that glorious pedestal. The beer steams up inside the chicken to internally marinate it and keep it juicy while the propped-up chicken gets evenly cooked. Obviously, Arby's isn't opening tall-boy cans and roasting whole chickens in its branches; it's using a beer broth of some kind. Still, the sandwich is a clever marketing gimmick, much like the marinating method itself.
A more inspired collaboration, at least in the sense that it's not totally about promotion, comes recently from Sierra Nevada Brewing Company in Chico, California. A deadly November forest fire, dubbed the Camp Fire, all but wiped out the entire town of Paradise, located beside Chico. It is now classified as the most damaging fire in California's history. As of the time of this writing, nearly 12,000 homes burned, 88 people perished, and close to 200 remain missing. Sierra Nevada decided to help with the release of Resilience Butte County Proud IPA, 100% of the proceeds of which will be donated to the Camp Fire Relief Fund. Interestingly, the brewery also shared its recipe and asked other breweries to donate their proceeds as well. The response was enormous, with now over 1200 breweries, mostly from the U.S. but also overseas, participating in the project. Some participating breweries that consumers in Japan might recognize include Firestone Walker, Heretic, New Belgium, Georgetown, Founders, BrewDog, Hardywood and Garage Project.
In Japan, at the time of this writing (early December), Brimmer Brewing plans to brew the charity IPA, too. As many may know, founder and head brewer Scott Brimmer was a long-time brewer at Sierra Nevada before coming to Japan. According to him and his wife Yoshiko, they both had friends and co-workers that lost everything to the fires. The beer will be available from Brimmer in early to mid-January, according to their brewing schedule. We hope consumers in Japan will seek the beer out to show their support. Some may remember, but there have been similar efforts in the past. After the Great East Japan Earthquake of March 11th, 2011, Baird Beer, Ishii Brewing Co (Guam), and Stone Brewing Co. (USA) brewed a collaboration green tea IPA that raised $64,000 for the Japanese Red Cross. Other Japanese brewers across Japan, meanwhile, donated kegs for a large festival in Tokyo that donated all its proceeds to relief efforts. Charitable giving has long been a part of the spirit of craft beer culture and we hope this tradition continues. Thanks brewers!
(The Brimmer family at Sierra Nevada's Torpedo Room in Berkeley, California)

---
This article was published in Japan Beer Times #37 (Winter 2019) and is among the limited content available online. Order your copy through our online shop or download the digital version from the iTunes store to access the full contents of this issue.