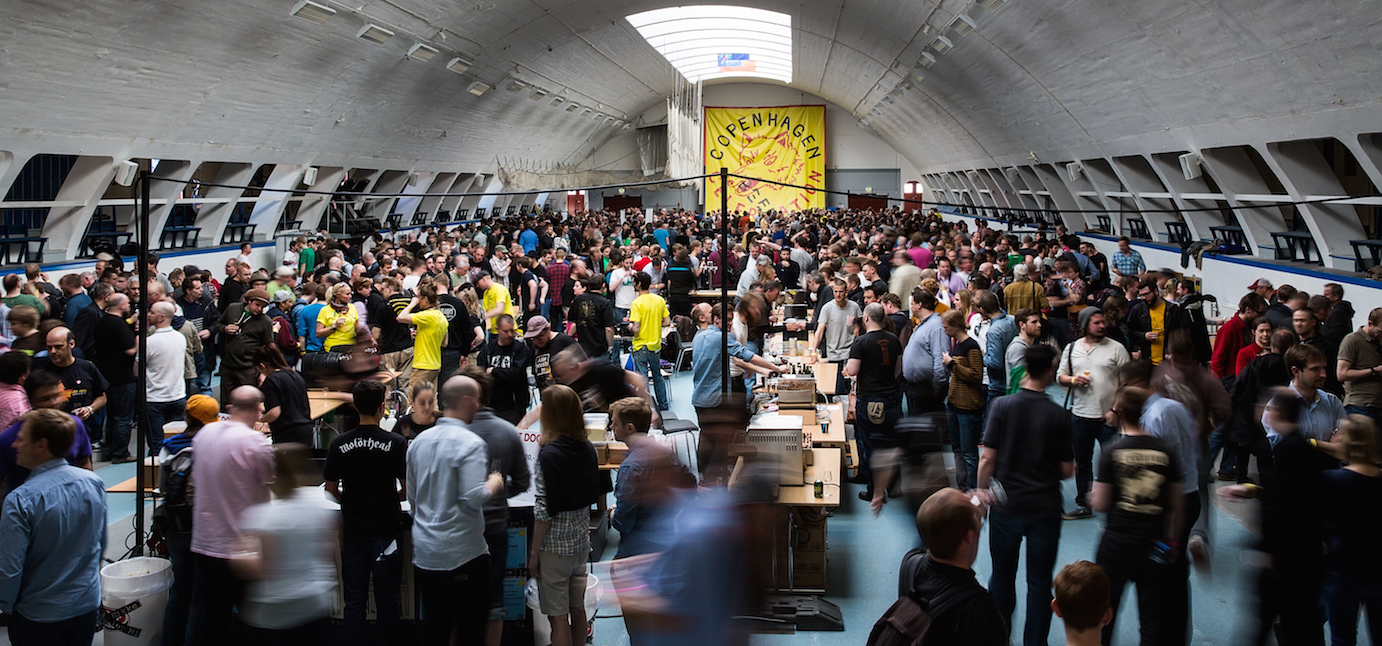 (Mikkeller Beer Celebration Copenhagen)
Mikkeller is internationally known and celebrated for two things it does extremely well. The first of course is brewing bold, creative, inspiring craft beer, frequently in one-off format or as collaborations with other great kindred breweries. The Danish company also owns and, in some cases, licenses the operating rights to eponymously named iconic bars around the world that primarily serve these beers. They further offer a handful of selections from esteemed guest breweries. More recently, however, the Mikkeller name and philosophy is being associated with festivals.
Starting in 2012, Mikkeller began hosting the Copenhagen Beer Celebration, which features small, like-minded breweries from around the world, including Japan. Last year, it was renamed the Mikkeller Beer Celebration Copenhagen. This year? It comes to Japan, and that's some big news indeed.
Dubbed the Mikkeller Beer Celebration Tokyo (MBCT), it will be held September 23rd and 24th at the Meiji Jingu Gaien Baseball Fields. The event's mission is to position Tokyo as one of the world's central hubs for truly quality beer craftsmanship. MBCT will host dozens of some of the world's best breweries, with their brewers/representatives themselves pouring unique and doubtlessly tasty beer. Who helps curate this list? Mikkeller founder Mikkel Borg Bjergsø. The brewery list reads like an all-star cast and deserves a closer look. It draws from Denmark (of course), Belgium, the UK, Sweden, Norway, New Zealand, America, China, Vietnam, Hong Kong, Taiwan and, last but not least, Japan. We can't highlight them all here, but some noteworthy ones we're drawn to include Garage Project (NZ), which we previously featured in the Japan Beer Times, and which is known for wildly creative and rather delicious beers. Boneyard, from the US, makes some remarkable IPAs for any hopheads out there. We also give high marks to Great Leap (China) and Taihu (Taiwan) for their successful pioneering efforts in Asia. Obviously, you have to try some Mikkeller beers while at the festival. On the Japan side, expect some new, sensational beers from Shiga Kogen, Yorocco, AJB, Minoh, and DevilCraft. In total there will be roughly 40 breweries serving a whopping 320 or so beers. The list features quality and selection like few other festivals.
Want to try them all? That might not be physically possible, but you can certainly try a lot of them. The event is all-you-can-taste during four different three-and-a-half-hour sessions (two held on each day, spaced two hours apart). For truly hardcore beer fans (let's call them "professionals"), there are two special tickets that grant entry to all four sessions. Gold tickets unlock 20-minute early entry to each session so that fans can enjoy quality face-to-face time with brewers. A single session ticket is ¥12,500, which is seemingly quite pricey compared to other festivals, but we think it can be justified. Mikkeller is bringing some of the world's best breweries to Japan for this. Many are coming to Japan for the very first time. They will be serving one-off beers that would normally be pricey anyway because of their ingredients and/or because they are small-batch. Also, remember it's not just about the beer, but the interaction with all these breweries and their representatives in one intimate space. How much would you pay for an exquisite, once-in-a-lifetime sushi dinner? This is the beer equivalent of that. The Pink ticket is an eye-popping ¥46,000, but for two days of fine drinking, it might seem like a reasonable 'research' cost for professionals and those that are profound beer devotees. Just think of what it would cost to travel to all these breweries, or even just to try to import all the different bottles from around the world. Note that tickets include limited-edition glasses for tasting, and that other memorabilia (like T-shirts) will be on sale at the event.
If you're coming hungry, there will be a handful of food vendors serving interesting cuisine (as well as coffee and cocktails). Expect tacos, vegan curry, takoyaki, Mikkeller's acclaimed meatballs, burgers, ramen, gyoza from none other than AQ Bevolution, and more. We shared AQ's recipe and history in a previous issue of Japan Beer Times, but you should try the real deal made by this established titan of the gyoza world while here.
The event is cashless, which will be convenient for most. Obviously, the beer is all-you-can-taste and covered by the cost of the tickets, but for food and goods at the schwag booth, there will be Square readers for you to run a charge. For more details on the event, please visit the website at https://mbctokyo.com or visit Mikkeller Tokyo in Shibuya. What? You didn't know there was a Mikkeller bar in Tokyo? Time to get caught up and pay a visit… The great beers there could go a long way to convincing you to dive in deeper at the festival.
Tickets: https://mbctokyo.com/en/tickets/
(Mikkel Borg Bjergsø)