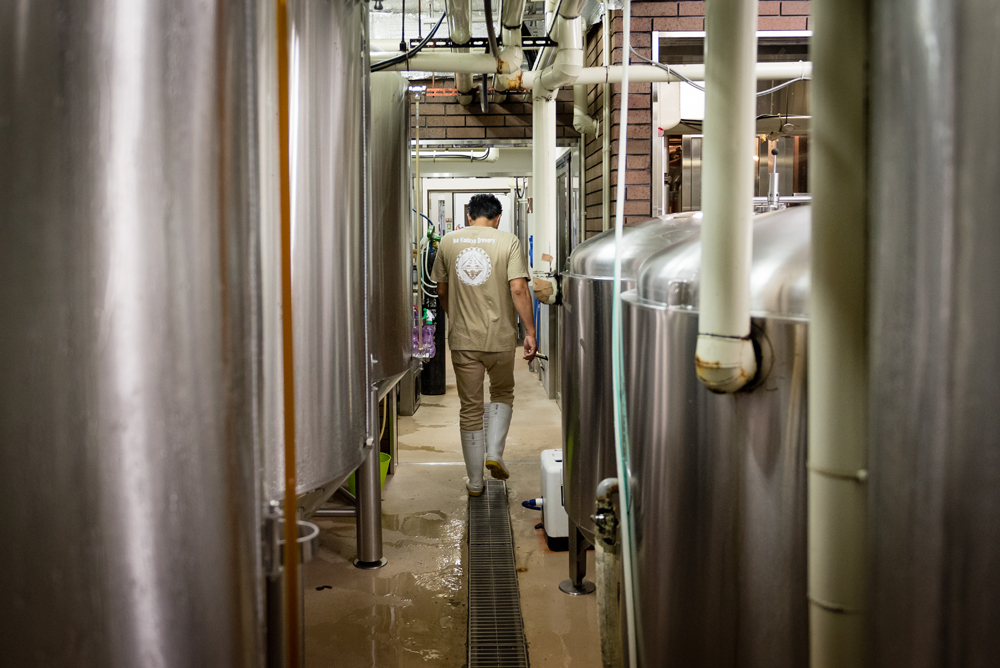 text by Brian Kowalczyk | photography by Matt Gammon
Editor's note: We first wrote about Ise Kadoya beer way back in issue 3, summer 2010. Both their company and ours have come a long way since, so we thought it was more than worth revisiting them.
---
For hundreds of years it has been a fixture in the local economy of Mie Prefecture's Ise City. Steeped in local tradition, it has been servicing travelers to the city since 1575. Of course, we're talking about Nikenjayamochi Kadoya Honten. What, were you expecting a discussion of Ise Jingu, one of Japan's holiest shrines?
As the 21st generation president of Nikenjayamochi Kadoya Honten, the charismatic Suzuki Narihiro is a well-known figure in Ise City, not to mention in the Japanese craft beer world. His company is also the parent of a much more familiar name to beer fans, Ise Kadoya Beer. Internationally, Suzuki has climbed the bright stage to accept awards for the company's beers and has also worked behind the scenes as a judge at the Australian International Beer Awards (AIBA) and the Great American Beer Festival. One might assume that his success was pretty much guaranteed as he was in line to take over a proven company from his father. But nothing could be further from the truth.
Until the mid 1990s, the company's business revolved around making mochi (traditional Japanese rice cakes), soy sauce and miso paste. As an executive general manager in his late 20s, Suzuki was ambitious, but maybe a bit naive. When the brewing laws changed in 1994, Suzuki told his father, "I'd like to establish a brewery." He had no real brewing experience, but he did have a degree in marine microbiology and knowledge of fermentation techniques used in the production of soy sauce and miso. When he approached his father with the idea, he got the simple reply, "If that's what you want to do, go for it."
"I don't think he realized the scope of the project I was going to get us into. He probably imagined it as no more than a micro-business," says Suzuki. It proved to be a much greater challenge than the young Suzuki had expected, too. The local tax office was not very interested in giving a license to someone with no prior brewing experience. The quirky laws also required that he have the equipment to brew in place before getting a license. Much research and capital was obviously going to be required to accomplish that. Furthermore, the tax office had little faith in the company selling the legally required 60kl a year solely to retailers. They told him that he should couple the brewery with a restaurant so that they had an additional means to sell their beer. That, they asserted, would significantly increase his chances of getting their approval.
After satisfying all of the tax office's stipulations, the Ise Kadoya Brewery opened its doors on April 26, 1997 along with its restaurant, Biyagura (basically a mixture of the words beer and kura, meaning "brewery"). The "ji-biru" market (a short-lived trend of selling locally produced beers that were often more novelty than quality) was in full swing at the time and the brewery was in a city that attracts hordes of tourists yearly. What could go wrong?
About half a year later the ji-biru boom went bust. "Poof! All our customers disappeared. Every day was a nightmare for me at that time. I had used all this money and was distraught thinking that if I fail, I will be wholly responsible for ruining our family business." The stress of preventing a four-and-a-half-century old business from running into the ground had to have been crushing for the then 29-year-old Suzuki. Unfamiliar with the brewing world, his father had no advice to offer. It was up to him to come up with a solution.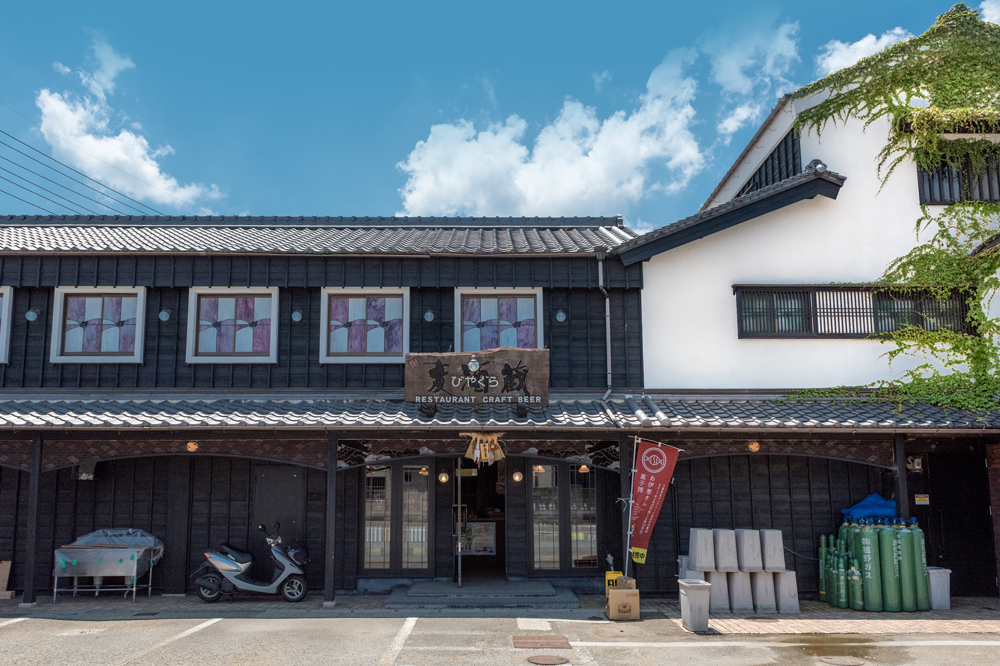 Focusing on producing a high quality product (unlike a lot of the ji-biru in those years), he decided he needed to benchmark himself against the best. "I set a goal of winning at an international beer competition to demonstrate our quality. I thought that if we could prove ourselves on that level, our sales would jump. The people who decide the results of those competitions are, of course, the judges, so I thought to myself, why don't I get certified as a beer judge?" This would provide him with firsthand knowledge of what the best beers on the market were and deliver his desired benchmarks right to the tasting table. He got his certification and in 1997 began working as a judge at JCBA events. In 1999 he judged internationally for the first time at the Great American Beer Festival.
It was at that event that Suzuki had a string of good luck. Judges that volunteered to share a room with another judge would have one provided free of cost. Strapped for cash, he decided on the room-share option without hesitation. His roommate turned out to be none other than legendary homebrewing advocate-pioneer and author of the first Bible on the topic, Fred Eckhardt. Shocked, Suzuki asked him, "Why would a famous person such as you decide to share a room?" He responded, "Because beer is not something meant to be enjoyed alone." And Fred made sure Suzuki didn't drink alone.
After they finished judging each day, Fred and 'Hiro (his new nickname) went out at night, tried different beers together and discussed how the judging went that day. "I told Fred that I wanted to make similar beers to rival the best in the competition and he gave me a great deal of encouragement. At the contest I was able to evaluate many pale ales. As you know, the Great American Beer Festival is a prestigious event and I gained a lot of insight as to what we had to strive for."
He returned to Ise with his newfound knowledge and discussed at great length with his brewing staff what they had to do. They tried a multitude of techniques, adjusting incrementally as they brewed. They implemented strict process control methods and meticulously recorded data and improvements. After much attention to detail and process refinement, they finally succeeded in getting recognized on the international stage when their Pale Ale won gold at AIBA in 2003.
They didn't have the money to send anyone to the actual event and received word of their triumph during a business meeting. An animated Suzuki relates, "Six years after starting our brewery we were able to succeed at being chosen number one and I thought, now our sales are going to take off. But nothing changed! I thought simply being chosen as the best would make people buy our beer, but I was completely wrong!"
Still relatively young at the time, Suzuki consulted some well-respected businessmen he knew. One, Motooka Kenji, the founder of the restaurant chain Tia, berated him for thirteen straight hours telling him he understood absolutely nothing about business. Suzuki, though downtrodden, took the criticism constructively and left the meeting with a renewed sense of purpose. It proved to be a turning point for him and his brewing business. Admitting to himself that Motooka was right, for the next six months he immersed himself in business texts, researching everything that was mentioned in the meeting and more. He also came up with a solution to the company's woes.
"I took a lot away from that time. Sure, quality is always essential, but marketing is also of utmost importance. Different customers have different perceptions. Some are truly craft beer fans and very passionate about craft beer, but most of the tourists that come to Ise are not those kinds of people. They are looking to buy souvenirs. I thought about what characteristics would match their needs. Our problem was that we were trying to make a beer that would appeal to everyone, fanatics and your average tourist alike. I realized it just wasn't possible. Realistically, we were likely satisfying no one."
In 2004 he split the company's production into two distinct categories and this turned out to be the perfect move. Their easy-to-approach, competitively priced beers targeted to the everyday tourist would be contract brewed following their recipes. He focussed his in-house brewing staff on the beer for "fanatics" under the Ise Kadoya brand name. With recipes correctly matched to the different target audiences and marketing following suit, their total production doubled in 2005. As the craft beer movement was still only increasing marginally in the mid 2000s, at first the largest growth was seen in the sales of the outsourced beer.
The first of these, Sinto Beer, an American-style pale ale brewed using black rice with hints of Cascade hop, took off almost from the start. Kumano Kodo Ale, a relatively mildly-hopped, light brown ale, followed in 2007. It, too, became popular, especially among tourists. Its name comes from the ancient pilgrimage route through the Kii Mountains of Mie and Wakayama that is recognized as World Heritage. The success of products such as these provided a much needed cash infusion and with the company's intense focus on delivering a quality product, the Ise Kadoya branded beer also started to make steady gains each year.
Of course, success does not stem from just one man in the company. Suzuki has assembled a solid team which complements its leader. His first brewer, Tsuji Masafumi, was plucked from the mochi facility and sent to various breweries for training. While looking for other brewers to add to his team, he had another bit of luck when he found Nakanishi Masakazu, who joined a month after the doors opened. Tsuji soon left and Nakanishi took over, showing great promise early on. Suzuki praises him saying, "Nakanishi simply has a great sense for brewing bordering on genius." With him on board, the quality of beer steadily improved, earning accolades both domestic and foreign.
Around 2010, after years of consistent growth, Suzuki was looking to add another brewer that could learn from Nakanishi's brewing prowess and also pick up the slack in other needed areas. He unexpectedly had that person fall right into his lap in the form of Deguchi Zenichi.
At the time, Deguchi was unhappy with his job at a company dealing in interior housing materials. "Every day it was just the same boring routine work. Everyone was always counting down the seconds till the 5:00 siren would sound. It felt like I had no real purpose in life. I was just doing it to bring home a paycheck to my family. I started to think, if I have to do this for another twenty years, I'll be completely miserable. Can't I do better?" He had three kids in school and quitting without having another job lined up was financially risky, but Deguchi says he had to be honest with himself and take a leap of faith. He finally decided to resign and refocus himself.
As classmates in Ise through middle school, Deguchi knew Suzuki and sought his advice, eventually deciding that he would like to join Nikenjayamochi. Though a bit leery of offering a friend a job, Suzuki acquiesced. "He came to me having already quit his job and seemed determined, so I thought I should give him a chance. I put him to work in the mochi facility first and he proved his worth right from the start."
After a year in the mochi side of the business, Suzuki thought that Deguchi's hard work and diligence made him a good candidate to work alongside Nakanishi. In May of 2010, Deguchi became an assistant brewer. Comments Suzuki, "He has worked out better than I ever could've imagined."
He got on-the-job training right from the start and was sent to the National Research Institute for Brewing in Hiroshima to basically live and breathe brewing from morning till evening for a month. During his "free time" on the weekends he went to the local brewery, Kure Beer, and also Mojiko (Fukuoka) to absorb more. For the first time in a long while, he felt that he was working toward a future and that his company was moving in a positive direction.
Two years ago, when Nakanishi left to help with the launch of Y. Market Brewing (Nagoya), Deguchi was handed control of the brewhouse—a brewhouse that had a reputation for quality, run by a highly-respected lead brewer. "I didn't want to ruin what Nakanishi had built," divulges Deguchi. "Whenever the head brewer changes, the beer also unavoidably changes a bit. It was my main concern to not let the perception of our beer drop at all." Surely, that gave him a great deal of stress, but he has delivered. In 2015, Ise Kadoya was awarded multiple medals at the World Beer Awards, including a gold for their Hime White, a Belgian-style white ale fermented with wild yeast. This year the company took home three medals at AIBA and a bronze at the the World Beer Cup for their excellently crafted Golden Dragon Session Pale Ale. Clearly Deguchi has succeeded in keeping their beers winners.
While he has had enviable success as the head brewer, the ever-humble Deguchi hasn't rested on his laurels. He is still "studying" in his daily work, experimenting with how to tweak flavor and aroma. With each brew he challenges himself to make a small improvement. "If you don't work on improving your standard beers, they become stale in the eyes of the drinking public. There always has to be some kind of evolution or people will begin to lose interest in your product."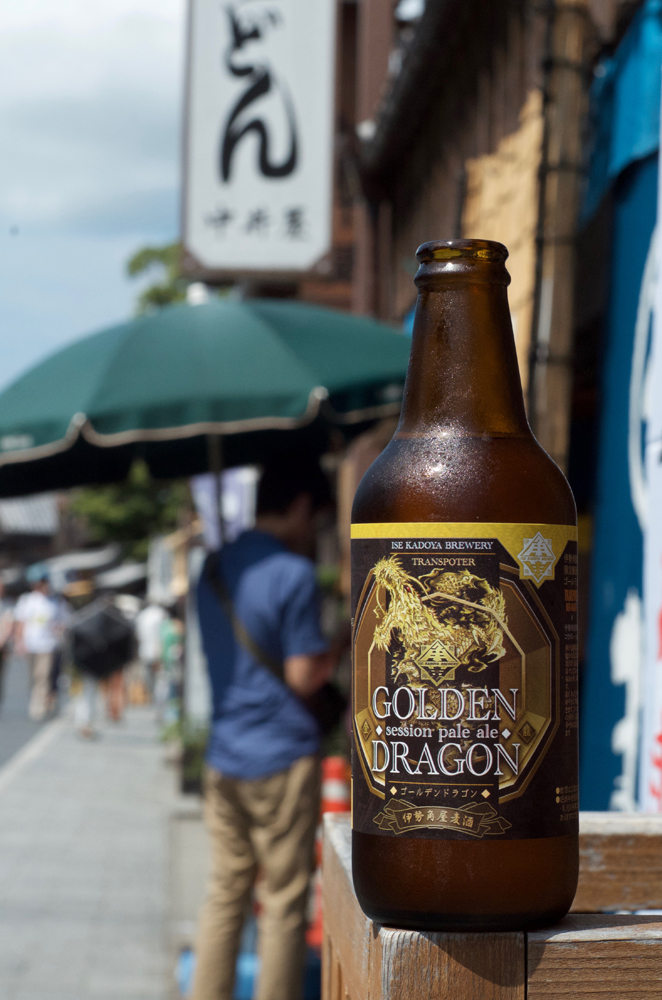 A self-described people person, Deguchi relishes traveling to festivals to directly interact with customers. He says earnestly, "Our reward for the work we do in the brewery is when we have a customer tell us 'This beer is delicious' or 'It's very good, give me another.'" Even when there is a customer that doesn't appear to enjoy the beer, he sees that as an opportunity to learn as well. The festivals give him firsthand insight into what is popular and what isn't and there is a lot to glean just from the faces of the customers.
Second in command at the brewery after Deguchi is Kanazawa Haruka, who joined in 2013. A microbiology major at Tokyo University of Agriculture and former employee of Yo-Ho Brewing, Kanazawa is a fan of lab work with a fascination for hana kobo (wild yeast from flowers). Suzuki, who sometimes goes on forays to collect wild yeast, had been looking for someone that was like-minded to assist in his plans to use those yeasts in brewing. He ran into Kanazawa a few times at beer events in Tokyo and they chatted casually. As she studied brewing at her university, he inquired if she had any classmates in the same program that would be interested in working at Ise Kadoya. Convinced that this would be a great opportunity for her personally, instead of a friend, she recommended herself. It will be exciting to see her continuing influence on brews as her work with wild yeast progresses.
As in the past, Ise Kadoya has many things in the works. But nowadays, Suzuki is concerned with how to expand economically as opposed to how to survive. There's talk of a new brewhouse, a barrel-aging program, producing mead and more experimentation with wild yeast strains. Suzuki assures us that he has a few other plans that he will unveil when the time is right. While we will just have to wait and see for those, one thing we can be sure about is that the company will continue to benchmark itself against the best breweries in the world. Maybe something they haven't considered is that they have likely become that benchmark for others.
---
This article was published in Japan Beer Times #28 (Autumn 2016) and is among the limited content available online. Order your copy through our online shop or download the digital version from the iTunes store to access the full contents of this issue.