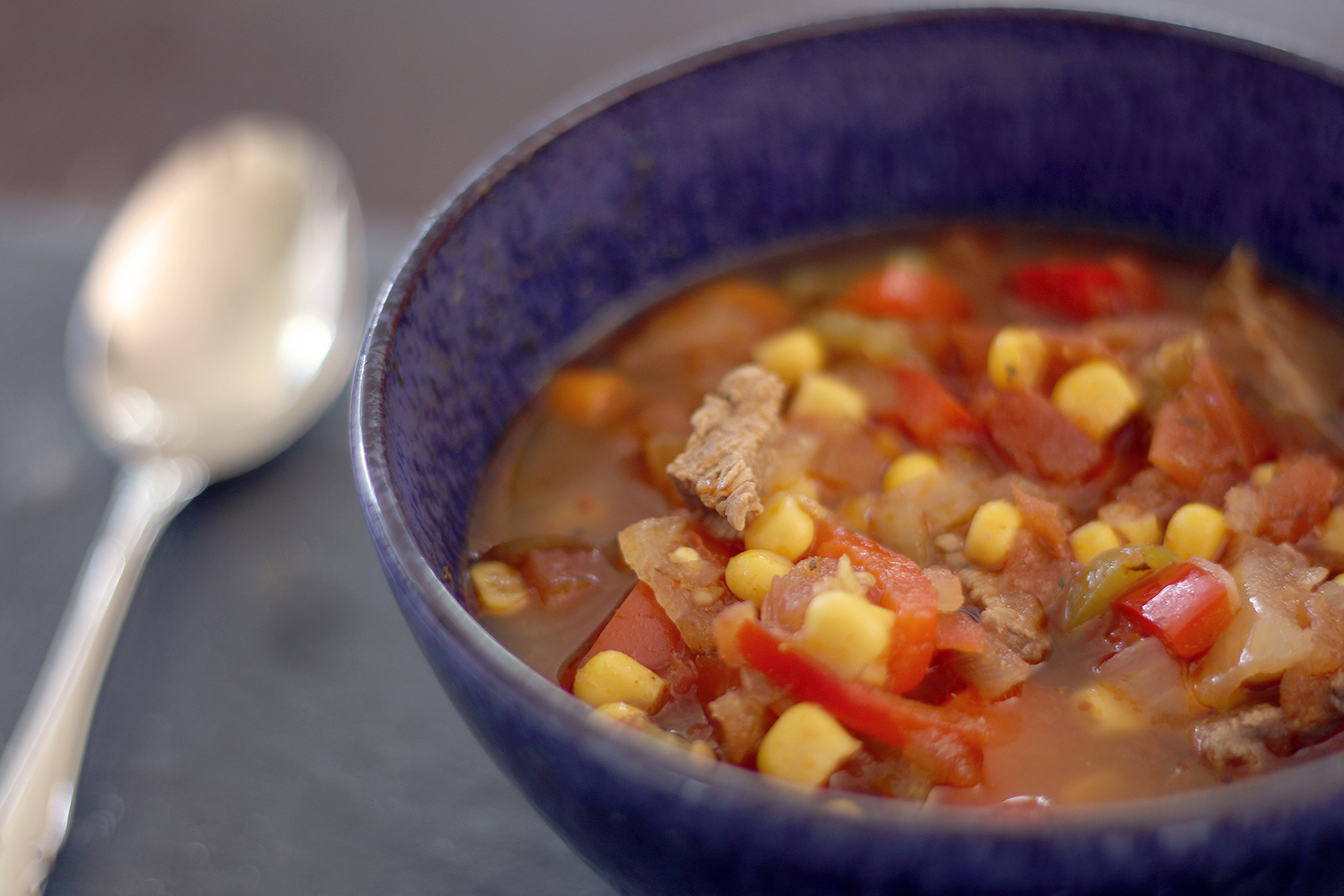 Soups are an essential food in cultures around the world. In many of them, savory or spicy is the norm. And, of course, they've traditionally made use of ingredients that are locally available. That is certainly true of Mexican soups, like this one.
In our increasingly interconnected world, soups have crossed borders and found homes in other cultures. Soup standards from one culture are no longer so exotic on a menu or dinner table in another. Soup is also great because you can make a lot and freeze what you don't need in sealable containers. Busy professionals, students or parents with newborns can make a lot in advance and have a ready meal at anytime. This recipe cooks for roughly eight people, but it could just as well be one!
What to pair with this soup if you're drinking beer?… Normally, spiciness calls for hoppy pale ales or IPAs, though more than a few brewers have made porters or stouts with habanero peppers and other spicy ingredients. The dark, roast malt flavor helps to subdue and balance the spicy kick. In Mexico, light lagers are common, of course, though mostly because they're so easy to drink down in the hot weather. You might try a Vienna lager. In the 19th century, Austrian brewers immigrated to Mexico, taking the style with them. It is amber in hue, with more body and some malt sweetness. Negra Modelo and Dos Equis are the brands most are familiar with, but many craft breweries, such as Sierra Nevada and Great Lakes Brewing, also brew popular versions of this style.
Spice bill:
1 tsp chile powder
1 tsp black pepper
2 tsp cumin
2 bay leaves
3 garlic cloves (minced)
1 tbsp paprika
3 tbsp oregano
Other ingredients:
3 tbsp olive oil
1 medium onion (diced)
1 carrot (chopped)
2 stalks of celery (chopped)
2 small red chiles (seeded, minced)*
2 red bell peppers (seeded, sliced)
2 cups of canned corn (400g)
5 medium tomatoes (chopped)
500g of pork, beef or tofu**
8 cups water
*you can substitute with togarashi (1~2 tsp) or any variety of chili peppers of your choice.
**for meat, we recommend pulled pork or shredded beef, especially brisket
Directions:
1 Heat oil in large soup pot, then add onion, garlic and chiles to sauté until soft. Add chile powder, cumin, paprika and pepper and sauté another two minutes.
2 Add tomatoes, corn, bell peppers, carrot and celery, and toss or mix with a spoon until coated with spices. Add water, bay leaves and bring to a low boil/simmer.
3 Add meat (or tofu) and oregano, and continue to simmer for about an hour. If meat is not already pulled/shredded, you can remove from soup at the end of the hour, shred it with your fingers, and add it back.
4 Serve garnished with cheese, fresh cilantro or even corn chips.
Note that this soup may taste even better after you've reheated it, as the spices have been given time to infuse the meat with flavor. There are also many variations you can try, like adding black beans or leftover rice. As always, fresh ingredients are best, but you could use canned tomatoes, too, in a hurry.
---
This article was published in Japan Beer Times #34 (Spring 2018) and is among the limited content available online. Order your copy through our online shop or download the digital version from the iTunes store to access the full contents of this issue.