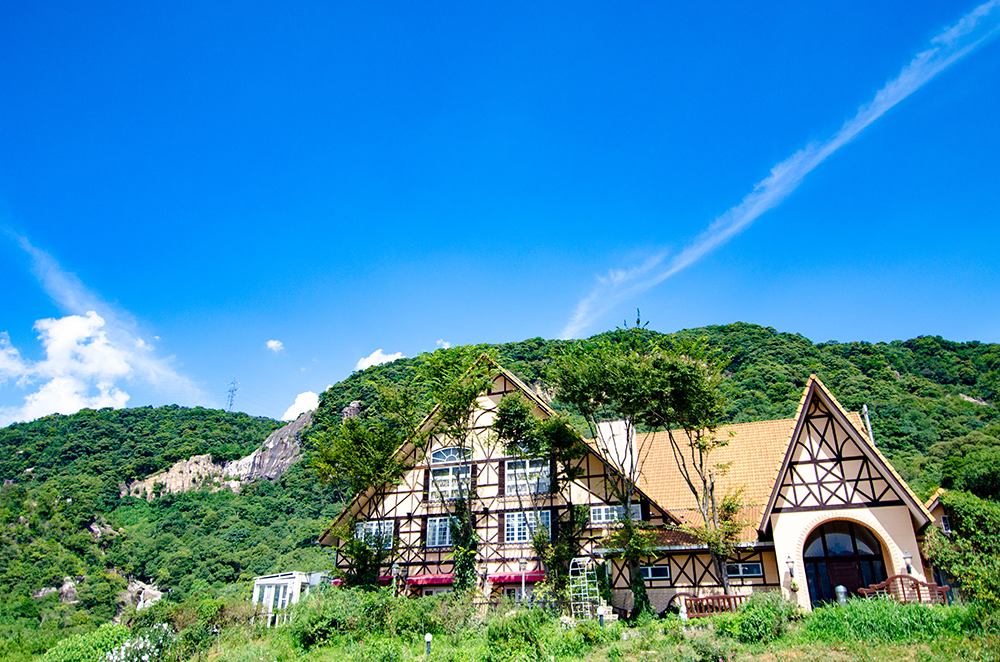 "It had always been my dream to sell our beer in the Tokyo market. But it felt like the proverbial pie in the sky–about as likely to happen as our sending beer to outer space. Just getting our beer sold in Shimonoseki seemed like we'd succeeded in shipping it to another country."
Hirofumi Nakagawa, president and founding member of Yamaguchi Beer Co., Ltd., which manages Yamaguchi Narutaki Kogen Brewery, reminisces about his company's early days when it was still unknown. I detect a familiar, laid-back character in his words as they trickle forth. I'm from Shimonoseki City in Yamaguchi Prefecture and can relate. I recall my mother often saying that people in Yamaguchi City drive slowly. Maybe that's just how they are. Working at their own pace–it's an ethos that permeates Yamaguchi Beer's brewery.
The brewery-restaurant is nestled near the foot of Narutaki Falls, about a thirty-minute drive from central Yamaguchi City. Natural water drawn from underground here is the backbone of its beer. Yamaguchi Beer launched during the first craft beer boom that began after laws changed in 1994 allowing for small-scale brewing. It can also count itself among those breweries that survived the subsequent downturn and stagnation that persisted into the early 2000s. Though twenty years have passed since the brewery began making beer, it has been relatively unknown in Japan until a few years ago. How did this obscure brewery finally gain attention?
Let's rewind more than 25 years to Nakagawa's days as a student. He helped out at a liquor store run by his parents and mused, "There are so many different types of beer from overseas, but only one style in Japan. No matter which you choose to drink, you don't notice much of a difference between any of them. That's just baffling." A few years later he heard that the brewing laws were changing. The news piqued his interest, but with limited knowledge of beer, naturally he had no idea how to brew, either. He later visited some of those first breweries to open and was fairly sure that he could learn to do it on his own with proper training. This spurred him to leave for Germany and the Czech Republic, where he studied brewing for three months.
On returning to Japan, Nakagawa embarked on his brewery plans, but initially met with some resistance from residents in the neighborhood where he wanted to build. Some no doubt envisioned an industrial "factory" going up in this area of natural beauty. Nakagawa spent a year-and-a-half in this start-up phase persuading local residents and then actually building the facilities before he was able to launch his brewery and restaurant, the "Restaurant Saint-Remy-de-Provence", in 1997. The beautiful architecture melds nicely with the lush, natural scenery, like some villa in Southern France suggested by the name. It was far from the factory that locals originally imagined.
The main members involved in the launch were Nakagawa's older brother Masahiko Yamamoto, their cousin Yoshihiro Yamagata, and someone craft beer insiders likely know, Akira Kikuchi. Kikuchi was a member of the team that launched Echigo Beer, Japan's first craft brewery. He provided guidance to many start-up breweries after his tenure at Echigo, and Yamaguchi Beer was one of those to benefit.
Soon after the facility opened, the restaurant business took off. Nakagawa spent the majority of his time running that as opposed to brewing. While lending a hand in the restaurant, Yamagata and Yamamoto spent hours learning the ropes of brewing from Kikuchi.
At the time, all the beer produced was consumed at the restaurant, but three years later, beer sales suddenly plunged and that side of the business stagnated. There were often long gaps between brew days, and Yamagata and Yamamoto both worried that they were forgetting how to brew properly. They bounced ideas off each other and tried a variety of measures to get things moving back in a positive direction, but the situation didn't improve.
During this period, patrons implored Yamaguchi Beer to let them host weddings at the restaurant–an opportunity it readily accepted. The brewery then contracted a wedding company to oversee the operations, and soon it was regularly doing sixty a year in a promising new direction for the business.
The restaurant and weddings kept the company afloat for more than ten years, but a turning point was on the horizon for Yamaguchi Beer. That moment arrived in July of 2014. With 90% of his attention focused on the wedding business, Nakagawa traveled to Tokyo to attend a wedding industry exhibition. With no plans in the evening, he stopped by Tokyo's well-known craft beer bar Popeye, which he had heard about in passing conversation. "Since it was a retailer specializing in beer, I expected everything to be imports. I was blown away that there were fifty to sixty kinds of Japanese craft beer available," recalls Nakagawa. The remotely located Yamaguchi Beer unsurprisingly had little interaction with other businesses in the industry. Word on the state of Japanese craft beer rarely reached Nakagawa's ears, and what he saw at Popeye was eye-opening to say the least. He had never dreamed that there were so many craft beers in Japan. The following week he took Yamagata and Yamamoto to Popeye with him. With newfound excitement, Nakagawa returned for a third week in a row to try as many beers as he could.
From that point on, things changed at Yamaguchi Beer. The company decided to participate in all BeerFes events (sponsored by the Craft Beer Association), starting with BeerFes Yokohama in September of 2014. Unfortunately, the team only brought beer servers and a single sign. They didn't stand out and further discovered that few people had heard of them; customers were not exactly lining up. Following the event, Nakagawa, Yamagata and Yamamoto participated in an industry seminar at Romantic Village Beer in Tochigi attended by some fifty brewers from all over Japan. The three proactively approached their industry peers to learn more about brewing techniques. The seminar marked a rather large step forward for them, as they were able to steadily improve the quality of their product thereafter.
Yamamoto eventually assumed the role of head brewer from Yamagata and developed the recipe that is still used for what we might call Yamaguchi Beer's specialty product: Weizen. "I received a lot of feedback and focused on the good points," says Yamamoto. "I overhauled the process and even changed the yeast. Prior to the change, Weizen was our least popular beer and I wasn't quite sure how to improve it. I figured I just needed to learn more. I asked our president to let me go work side by side with some brewers at other companies and he acquiesced. I truly appreciate working in this industry. Everyone speaks frankly and helps others improve."
Yamaguchi Beer's Weizen has a distinct fruity aroma that is characteristic of this style. The flavor exhibits conspicuous sweetness, and hints of fresh banana are consistent throughout. The flavor is refreshing, but with a crisp finish. Yamaguchi Beer's aim was to create a sessionable beer and it hit the mark. As the brewery also runs a restaurant, naturally it made a beer that its patrons can enjoy with food–something expressive that doesn't overwhelm the palate.
In addition to Weizen, Yamaguchi Beer's other standards are Pale Ale, Pilsner, and Stout. The Pale Ale exhibits prominently bitter aroma with grapefruit character. It is full-bodied and bold, but sweetness comes through as well.
The Pilsner resembles a Bohemian pilsner whose richness is enhanced by slight diacetyl flavor (acceptable for this style). It has a tinge of bitterness and a good amount of sweetness making it also similar to a Helles.
The Stout is considerably dry with a strong, chocolatey aroma. As is the norm for a dry stout, neither the sweetness nor the bitterness is overpowering. Savoring the distinct aroma, you'll no doubt enjoy it to the last drop.
The copper-colored IPA, which will be a year-round beer moving forward, is a relatively low 5%ABV beer with satisfying bitterness. Caramel flavor, as the color would suggest, and sweetness also come through.
Yamaguchi Beer acquired a happoshu license several years ago and is now focusing on making happoshu with local farm fruit (i.e. fruit beers), including one with natsu mikan (an orange-like citrus native to Yamaguchi) and another with yuzukichi (a sour, green citrus). I was able to try three from this series. The Suo-Oshima Mandarin Ale is reminiscent of spicy citrus peel on the nose. The flavor of the fruit juice plays a prominent role, and there is a nice balance between the sweetness and bitterness in the aroma. The Hagi Summer Orange Ale is hazy and slightly sweet, the flavor accentuated by orange peel bitterness. It goes down easily. Lastly, the Momo Weizen is characterized by prominent peach aroma. It isn't as cloudy or aromatic as your normal weizen.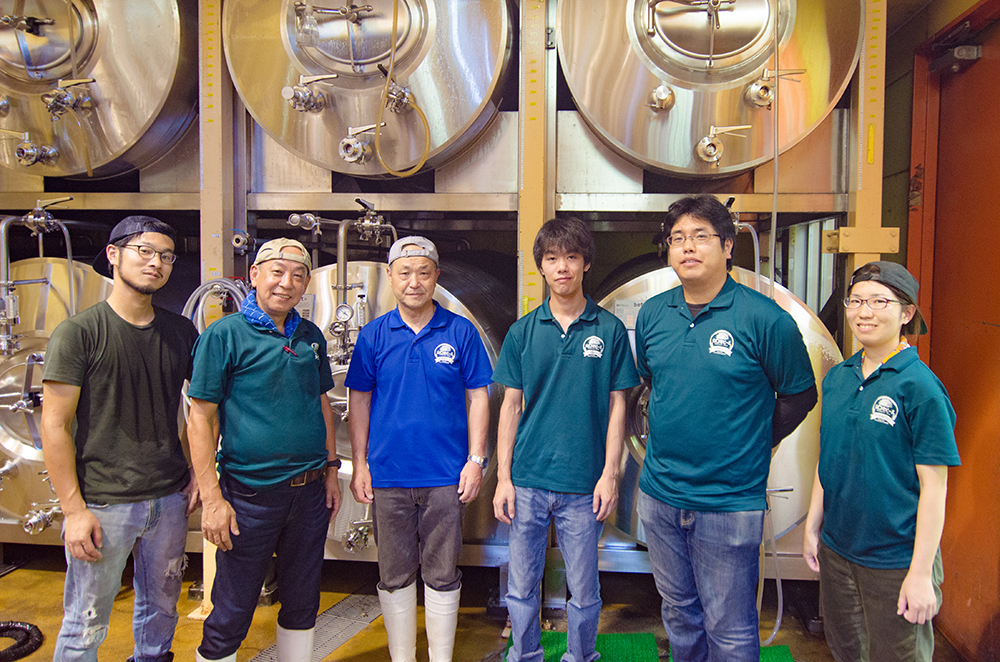 Returning to the Yamaguchi Beer story, once the team realized the scope of the beer world beyond them following that fateful visit to Popeye, it began to explore the endless possibilities for not only its Yamaguchi Beer brands, but for craft beer in general. In 2015, Nakagawa's "pie in the sky" became reality when Popeye put his company's weizen on tap. Word of its quality spread and little by little Yamaguchi Beer's profile rose at other craft beer bars in Tokyo.
That same year, coming quickly on the heels of its push into Tokyo, Yamaguchi Beer learned that BeerFes was going to hold an event in Taipei as well. Without hesitation the team decided to run a booth and were rewarded with more positive reviews than ever expected from the locals. It seems the easy drinkability was a match for Taiwanese tastes. They couldn't keep up with the pace of customers and the line was continuously fifteen people deep. Such sudden popularity even resulted in an opportunity for the brewery to export to Taiwan. Success in that market has given the team a big boost in confidence.
Due to the fateful events of 2015, shipping volume has increased steadily. Since 2015, Yamaguchi Beer has seen its yearly production volume grow 30%. In 2018, the brewery projects its annual production volume to be 180kl, with a goal of hitting 300kl in the next five years. In order to meet growing demand, Yamaguchi Beer expanded its production capacity in 2016 from 150kl to 500kl. At the same time, it also installed a pilot system to enable limited, small batch brews and collaborations.
It goes without saying that as production volume increases, investment in quality control becomes more and more critical. Until he assumed a VP position recently, Yamamoto was trying with limited success to fill the roles of both brewmaster and restaurant manager. Ryo Osada joined the Yamaguchi Beer team in January 2017 to take some work off his hands. Osada spent six months as an exchange student studying English in Victoria, British Columbia, and it was there that he discovered with great excitement how profound the sophistication of craft beer could be. With that, he committed himself to becoming a brewer. He passionately declares that he hopes to become Yamamoto's right-hand man, and that he wants to ensure that Yamaguchi Beer always ships quality product and focuses on improvement.
A few years before Osada arrived, and during a period of rapid growth, Takahisa Osora joined the company. He is the Sales & Marketing Manager but is involved in everything from sales and public relations to loading shipments on a truck. To expand the appeal of craft beer locally he also got involved as an organizer for a local craft beer event held in Yamaguchi City called the Yuda Onsen Craft Beer Club. In that first year, 2016, the committee invited breweries in the Chugoku region, drawing over 1,000 visitors–a sizable number for a city with such a small population and so little knowledge of craft beer. In 2017, they invited breweries from Kyushu (for a total of seven breweries) and the number of visitors grew.
Yamaguchi Beer needs to keep pushing such par-for-the-course events here. As a Yamaguchi native, I look forward to the day when craft beer truly catches on in the capital city, and when more craft beer bars pop up–not only in Yamaguchi City, but across the prefecture as a whole.
Presently, 20% of Yamaguchi Beer's product is sold within the prefecture. All of that is in bottles and mainly sold as souvenirs at gift shops and supermarkets. 70% is sold domestically in other prefectures and 10% is exported. Australia has begun importing the beer and at the time of publishing this article, preparations for export activity to the U.S. were in the final stages. Nakagawa enthusiastically talks about eventually shipping 10% of the beer produced to the U.S. Of course, he doesn't just want to export; he wants the beer to be highly lauded as well. His biggest ambition, however, is giving Yamaguchi Beer distinct flavor and enticing people from around the world to make the trip to the brewery-restaurant in Yamaguchi to drink it.
Yamaguchi Beer is a work-in-progress, albeit in a good way. Even if taking into account that 70% of sales is outside of the prefecture, the number of bars selling its beer is still small. Some of the many other challenges it faces include shipping stable beer from its remote location and elevating the market for craft beer in Yamaguchi. As the brewery does its best to style an approach to those challenges and overcome them, I hope it hits on something new and innovative. I wish the team the best as they continue pushing into those "outer space" markets like Tokyo and Osaka, and beyond to America. I'll be sure to keep a watchful eye on their progress.
(by Misato Hanamoto)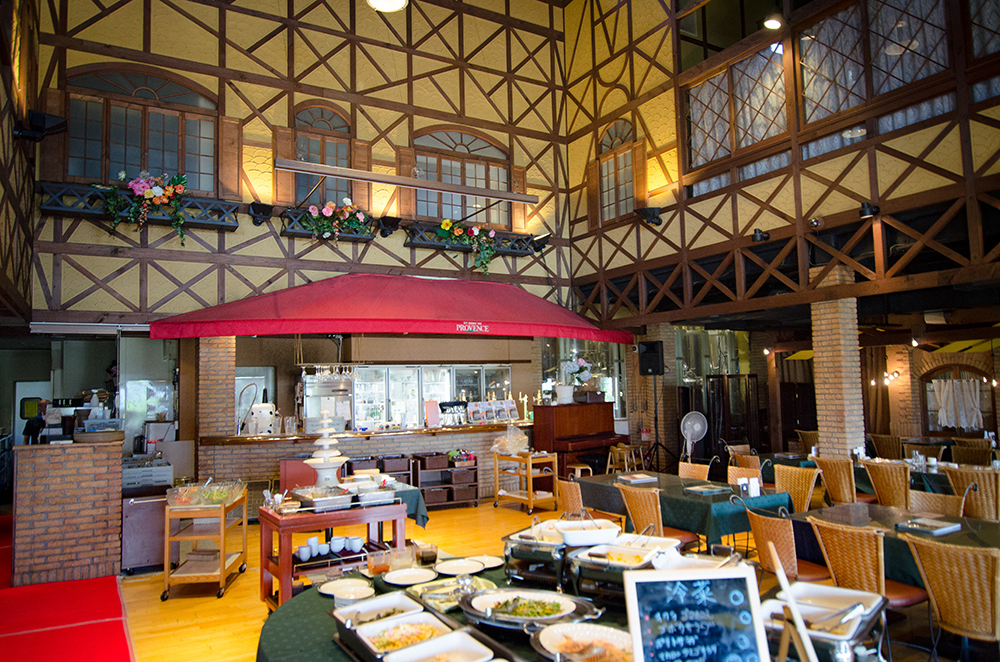 ---
This article was published in Japan Beer Times #33 (Winter 2018) and is among the limited content available online. Order your copy through our online shop or download the digital version from the iTunes store to access the full contents of this issue.