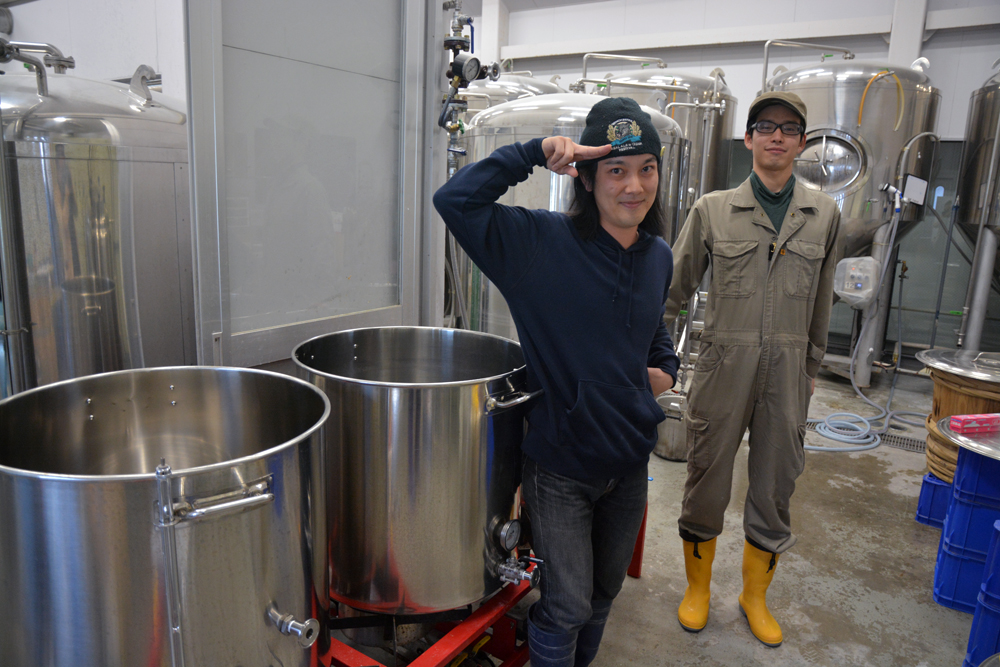 For the second collaboration craft beer in its winter series (available in January), 82 ALE HOUSE joined forces with Hansharo Beer. In 2014 the full-time employees of HUB (82's parent company) took a company outing to the Hansharo brewery in Izunokuni City, Shizuoka, and it was decided to put their beer on tap in 2015. From that point on, every January they have featured original beers from Hansharo for a total of five. It was a session IPA until last year. This year two different beers were released.
The first one is called Asian IPA. It's advertised as the "Hansharo & 82 Original Session IPA". The nomenclature "Asian" was chosen due to the use of rice, which is harvested near the brewery in the Nirayama area. The beer has a strong fruity aroma of white grape reminiscent of Nelson Sauvin hops. When sipped, the bitterness comes off relatively light and the beer is not especially sweet– balance typical of a good session IPA. As the white grape aroma further suggests, the beer also has a tinge of sourness. Due to the use of the rice, the aftertaste is clean and refreshing.
Paired with stewed beef tendon, the bitterness of the beer and the sweetness of the broth combine beautifully. The broth seems to take on a fruity aroma with a sweetness like tomato sauce. As is common, the bitterness of the beer enhances the flavor of the meat. The sour facet of the beer blends well with the sweetness of the stew's seasonings, which is addictive. The second collaboration beer will be released mid-January. It's going to be an ESB (Extra Shizuoka Bitter as it is playfully being referred to). I look forward to giving it a try.
By Kumagai Jinya
(about the first collaboration: http://japanbeertimes.com/2017/12/alehouse/
UPDATE!
HANSHARO ORIGINAL ESB (Extra "Shizuoka" Bitter)
The ESB (Extra Special Bitter) style beer that I wrote about previously has been released. It has a nice balance between the hops and malt with an aroma of black tea. The 5.9% ABV brew has a moderate body and an evident sweetness. It goes down smooth with little bitterness. Sip it slowly and enjoy the mild sweetness. By the way, Hansharo used "Shizuoka" instead of "Special" for the "S" in ESB as a tribute to the prefecture in which its brewery is located.
When paired with 82's raisin butter (wrapped in cured ham), the aroma of the raisin and butter highlight the full-bodied, fruity flavor of the ESB, which is true to the original British style. The ham wrapping has a saltiness that amplifies the moderate sweetness of the beer. Depending on where you take your bite from, each mouthful pleasantly enhances the beer in a different way.