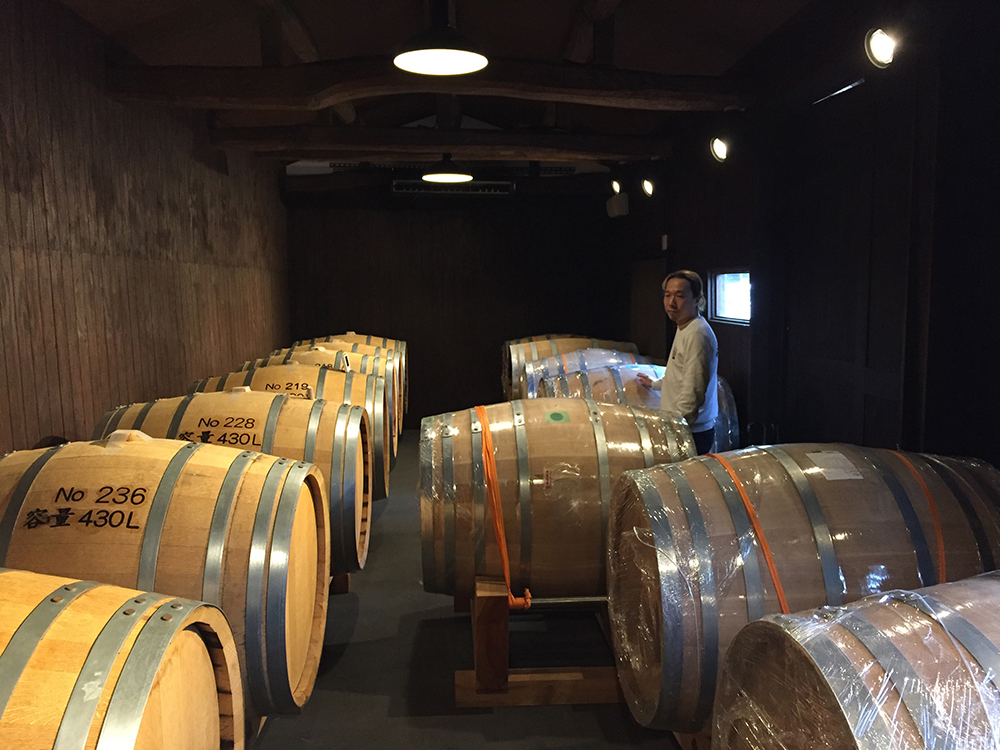 Welcome back from hibernation. How was your winter? Did you dream of warmer weather, hanami and beer gardens? Shake off your grogginess and get ready for the great outdoors. Spring is a beautiful season in Japan and, as a beer lover, you're usually doubly treated. Over the slower winter season, many brewers have more time to focus on developing new beer concepts (rather than focus on capacity issues they face during the hectic demand of summer). You'll start to see some of these new beers debut this time of year, with even more coming out as festival season picks up pace.
As we've reported on our website, in previous issues and again in this issue, more Japanese breweries are starting to experiment with barrel-aged beer. We are aware of several notable breweries, too, that have started barrel-aging programs. We look forward to their releases and will report on them as their debut approaches. Definitely be on the look-out for these complex, high-alcohol brews. We recognize that this is a niche style of beer that may not suit everyone's tastes, and we still like a clean lager, too, but barrel-aging is an exciting development. (We wrote at length about barrel-aging in issues 27 and 28).
Over the last couple of years, you may have noticed a growing trend of breweries opening multiple taprooms in Japan's big cities. Yona Yona, Baird, Hitachino Nest, Minoh and Swan Lake are all examples of breweries with several retail locations, in fact. Now we're seeing a steady opening of Japanese brewery taprooms overseas! Hong Kong has been the biggest beneficiary of overseas love. Hitachino Nest and Coedo both have retail locations there. As we write, Hitachino Nest is also preparing to open a San Francisco restaurant with a local partner. Meanwhile, Baird Beer will open a taproom in Los Angeles. It's reassuring to know that such great Japanese breweries are ambassadors for Japan's craft beer movement abroad.
There is definitely growing interest in Japanese craft beer overseas (assuming it is high-quality, stable beer carefully handled by a competent importer). This was evident during San Francisco's Beer Week, which took place in mid-February. These days, SF Beer Week encompasses the entire San Francisco Bay Area, including surrounding cities. As a part of the festivities, The Trappist in Oakland held its annual Japan Craft Beer Fest, which attracted hundreds of people. The menu featured dozens of selections of Japanese craft beer and lines spilled out onto the sidewalk. Maybe they need to make this event monthly?
Before we look further at developments overseas, let's take a pause and discuss a related topic: Tokyo Beer Week, slated to take place May 27th to June 11th (more like Tokyo Two Beer Weeks!). Now in its fourth year, the original organizers have decided to hand over the reins to Kirin. We already touched on this broad topic–of macrobrewery participation in beer week events–in our introduction to this issue. Our response to Tokyo Beer Week specifically is: let's wait and see how it goes. If Kirin can put some of its promotional power behind the many bar and restaurant events, maybe those small retailers (and the craft brewers selling to them) will see good business. They helped create the craft beer scene and deserve to benefit the most from such an event.
Ironically, it is this enormous promotional power macrobreweries can yield that is part of the contention craft breweries have with them, at least in the context of the American craft beer movement. Many small breweries have claimed that the ability of giant breweries to run commercials gives them, together with their dominance of distribution, an unfair competitive advantage (We covered this history extensively in our two-part series "Craft Beer is Dead" and "Craft Beer is (not) Dead" in issues 21 and 22). Perhaps nowhere is this power more apparent than during the American Super Bowl for professional football. According to Nielsen (a global data accounting firm), this sporting event in 2017 was the second highest-rated television broadcast in U.S. history (with the 2015 contest being the highest-rated). Commercials run during the Super Bowl reportedly cost a whopping $5 million for 30 seconds, and have become something of a cultural phenomenon (we are talking about the country that elected a TV celebrity as president). Millions of people even tune in just to see the commercials!
This year, Budweiser, one of the few breweries that can afford such a bill, aired a shocker that ran 60 seconds. As background, America's politically charged atmosphere owes in part to the current administration's controversial immigration policies. This commercial showcases the immigrant roots of the company's founders. It depicts the arduous journey of Adolphus Busch to America in 1857. The ad sets its tone in the opening seconds with somebody saying, "You don't look like you're from around here," but then escalates as it shows Busch at the port. A customs agent says, "Welcome to America," and just as quickly, bystanders shout, "You're not wanted here," and "Go back home," as they bump and shove him. His difficult journey through America continues until he eventually arrives in Missouri, where somebody greets him warmly with, "Welcome to Saint Louis, son." Finally, we see him at a bar where a fellow patron, treating him to a beer, says in English with an accent, "A beer for my friend, please." This is the fictional portrayal of his fateful meeting with Eberhard Anheuser, the other half of the Anheuser-Busch name.
Nothing wrong with depicting company history, right? Well, the brewery first released the ad on YouTube, ahead of the Super Bowl, and just a few days after Trump's controversial travel ban. It's always risky for a company to get involved in politics. Also, it's worth remembering that just last year, the company released a brand called "America" in an apparent attempt to appeal to patriotism and its core drinking base, much of it in America's heartland. America's heartland voted for Trump. The company released a statement to the Washington Post demurely stating that they had been developing the idea for the commercial for almost a year, and that its focus was the founder's ambition and commitment. Still, that didn't prevent Twitter hashtags from popping up calling for a boycott of the brand. On a deeper level, the company needs to connect with a younger generation of drinkers. America's youth is increasingly mixed-race, minority, immigrant, and/or the children of immigrants. This may have been a savvy marketing move.
It's interesting to reflect how something like this could play out in Japan. Sapporo has already done a "Nippon Beer" (and also has a Nippon Lager). No big deal there. But consider Kirin. It claims as its roots the original Spring Valley Brewery in Yokohama, supposedly Japan's first brewery. It was founded in 1869 by William Copeland, a Norwegian-American. How about a Kirin commercial showing Copeland traveling to America, then later to Japan, where he worked in the dairy industry before building his brewery? Unfortunately, while Copeland may have been a great brewer, he apparently lacked equal business acumen (a lesson for current and future brewer-owners) and the brewery went up for auction in the mid-1880s. The unheralded hero of this story may be Thomas Glover, a well-connected Scottish merchant whose former residence in Nagasaki is now a cultural attraction. He negotiated sale of the facilities to The Japan Brewery Company, which launched the label Kirin Beer in 1888, eventually becoming the Kirin Brewing Company in 1907. Well that's a happy story with no politics!… Except that Glover was also a heavy drinker and prolific arms dealer, supplying rebel samurai with weapons–and eventually the Meiji government with warships.
Picture the commercial: Glover (played by Tommy Lee Jones) with Ken Watanabe and Tom Cruise (The Last Samurai) drinking heavily and shooting guns… Yeah, maybe we should just stick to celebrities and athletes enjoying the cherry blossoms and drinking beer together. That's likely to appeal to everyone. Enjoy your hanami readers!
---
This article was published in Japan Beer Times #32 (Autumn 2017) and is among the limited content available online. Order your copy through our online shop or download the digital version from the iTunes store to access the full contents of this issue.