With the busy summer season having ended, perhaps you thought you'd be able to take a break from beer activity. Maybe not. In addition to the fresh hop beers we mentioned in our earlier feature, there are quite a lot of other autumn seasonal beers. Be sure to visit your local brewery if you've yet to do so this fall to see what's new on tap.
And you may have a new local brewery or two to choose from, depending on where you live. We continue to see a few open each month in Japan, and this has been ongoing for at least a year. Most are small brewpubs in urban or suburban areas. This is largely a reversal of the trend during most of Japan's two-decade-plus craft beer history where breweries typically opened in rural areas, to attract tourism and/or take advantage of cheaper land prices. But with craft beer awareness relatively high and growing in dense urban areas, entrepreneurs and large companies alike are seeing plenty of opportunity to connect with consumers through an attractive retail operation.
Also, the trend in Japan toward smaller brewpubs hoping to service a neighborhood or city district (as opposed to a brewery planning to distribute to regional or national retail accounts) follows a similar one in America, England, and other craft-beer hot spots. Industry watchers are calling it "localism" or even "neo-localism". Basically, consumers have increasing options for drinking craft beer close to home. Many are choosing to do so, going to their local brewpub instead of, say, picking up a case of beer at the supermarket from a brewery in a different state (or prefecture) or region. In America, at least, this is kind of a return to the conditions of the marketplace prior to Prohibition. It is posing some challenges to mid-size regional breweries, however, as their former customers are being peeled away.
So what options are available to them? Well, bankruptcy as a sad end. Some are opening more taprooms and/or trying to export to new markets. Others look for partnerships, especially if it is a larger brewery with deeper pockets or some other kind of strategic relationship. We've spoken about acquisitions here a number of times, especially with trans-national breweries.
The big news this summer, of course, was Sapporo purchasing San Francisco's Anchor Brewing (see JBT #28). Most people in the industry consider Fritz Maytag, who purchased the brewery in 1965, the godfather of the modern craft beer movement, though he sold the brewery to other investors in 2010. Like other mid-sized breweries of its kind, Anchor had certainly been feeling the squeeze described above. The distillery division that launched in 1993, however, has been quite successful. It seems the investment group felt it was time to sell off the beer division, despite its pedigree, and Sapporo swooped in for a sum that looks like a good deal to us, especially if it can use its resources to give this legendary brand some new 'steam'.
News of the acquisition was splashed across the front pages of newspapers around the San Francisco Bay Area, underscoring the surprise that many people felt (or perhaps people are just tired of seeing sordid political headlines and newspapers gave them something new). Many craft beer fans and industry workers in the U.S. were at a loss for words, knowing very little about Sapporo or its intentions. It seems like the attitude is wait and see for many.
These days, acquisitions do not necessarily involve huge industrial breweries and corporations. A few recent ones caught our attention in part because drinkers in Japan may be familiar with the brands. San Diego-based Coronado bought a smaller brewery called Monkey Paw. Fort Collins, Colorado-based New Belgium, meanwhile, bought Magnolia, a small but iconic brewery in San Francisco that was facing bankruptcy. Interestingly, Dick Cantwell, a craft beer industry giant who co-founded Elysian (which was later bought by AB InBev), will be a minority partner and will also lead the brewing operations. This is all geeky industry talk, though. What's in it for you, the consumer? Our first thought is: will some of this great beer be available in Japan? That will be up to the importers. Our second thought: will Japanese craft breweries take a stake in or acquire other craft breweries in Japan? Probably not–not yet, at least. A better question: if you were going to buy a Japanese craft brewery, which one and why?
With that, let's move on to some fun news…
A brewery in Texas released a beer in June inspired by Nissin Cup Noodles. Called Cup O' Beer, it was brewed with actual ramen noodles. The basic style is a gose (a beer with at least 50% wheat, a slightly tart finish and some salinity), and apparently it has notes of lime, ginger and lemongrass. Unusual, yes. Then again, we recently Tweeted that we'd like to see a hop-flavored Kit-Kat. Definitely IPA-style hops.
Lagunitas is another to recently brew with an unusual ingredient: cannabis. Okay, actually it was an extract from the marijuana plant, which is in the same family as hops. One thing they have in common is terpenes–organic compounds in the oils with aromatic qualities. Lagunitas teamed up with a high-tech, local cannabis-extract company (marijuana is quasi-legal in California) to isolate the terpenes and brew with them… minus the psychoactive chemical THC. The beer is called SuperCritical Ale. Hemp beers without THC have been around for years, of course, but Lagunitas' beer relies on a more sophisticated technique that could open an interesting new area of aroma exploration in beer.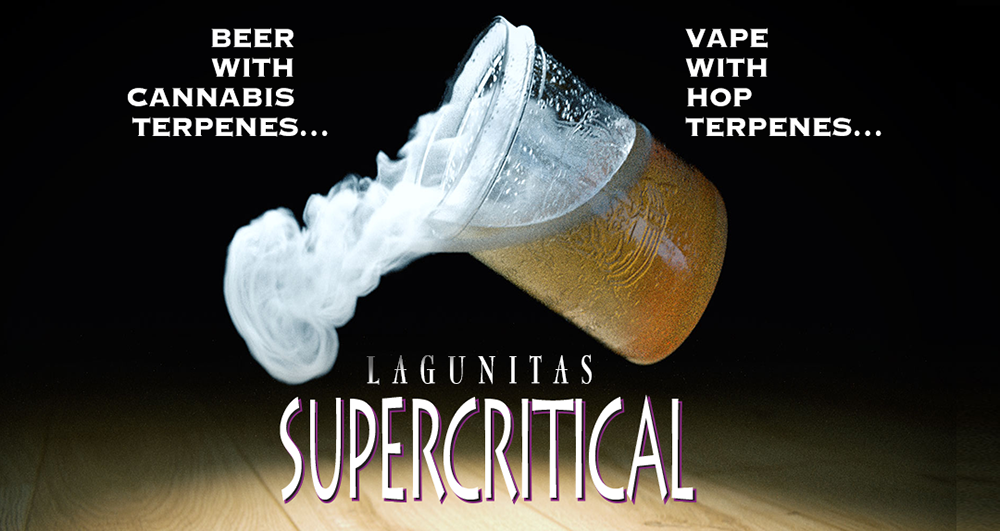 Much of the exploration of new ingredients transpired in homebrewing circles over the decades. Many of those homebrewers eventually became professionals, brewing some of the world's greatest beers. In America, some of them are now completing the circle by releasing their recipes to other homebrewers. Earlier this summer, the American Homebrewers Association (AHA) released nearly 50 beer recipes that were obtained from professional breweries around the country and scaled down to small-batch, homebrew size (5~10 gallons). The recipe list includes Russian River's Pliny The Elder and Bell's Two Hearted Ale–two of America's most highly regarded beers (by beer geeks, at least). Sadly, for all intents and purposes, homebrewing is illegal in Japan, but… ask around and you may hear of people… experimenting.
Two summers ago we featured on our cover a young woman with a beer doing yoga. Prudes pulled their hair out, washed their eyes with lye and accused us of various improprieties. We weren't being sexist; we were being visionary. Funzing, an organization in London that promotes "unique experiences", has a member who hosts popular beer yoga classes. Participants do Vinyasa yoga for an hour while drinking bottled beer. And this isn't isolated. Countries including Germany, Australia and the U.S. also have organizations offering it. Large, international media organizations like Business Insider and Mashable even reported on it, spreading the new trend even wider. Japan, it's time we do this! Talk to your local bars and yoga studios. Until then, there's always your living room. Have fun!
---
This article was published in Japan Beer Times #32 (Autumn 2017) and is among the limited content available online. Order your copy through our online shop or download the digital version from the iTunes store to access the full contents of this issue.