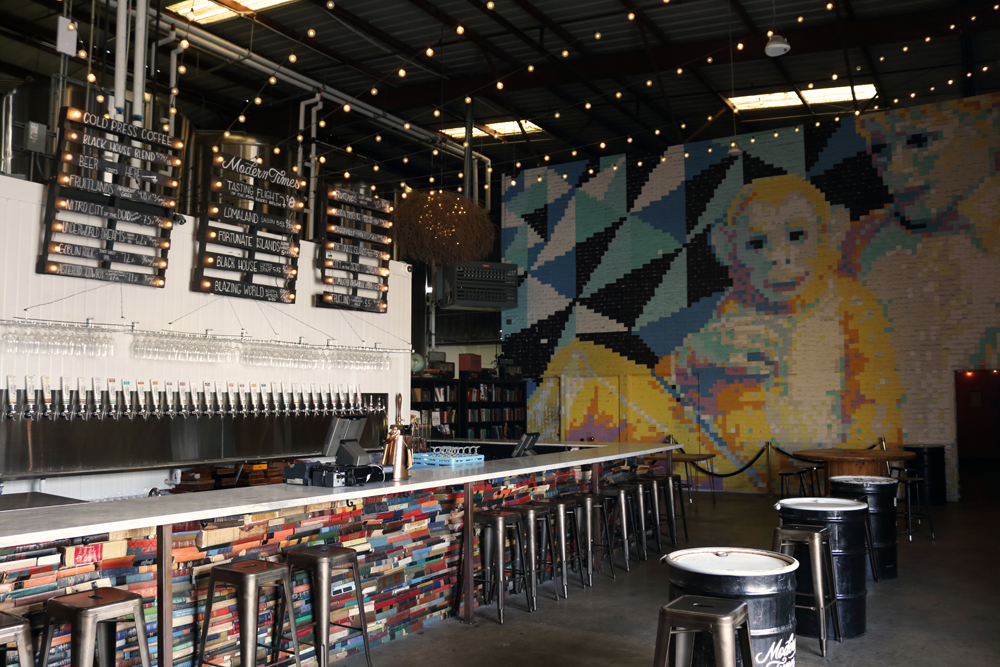 Modern Times defines a new kind of funky cool. By the entrance to "Lomaland Fermentorium", its mainstay brewery and tasting room in Point Loma, San Diego, are two old bathtubs with legs, like something from an early 20th century home or hotel. They are being cleverly repurposed as planters for cacti, jade plants and other succulents that thrive in Southern California's warm climate. These planters are statements, objets, the children of fecund imaginations. They are meant to draw attention to themselves. They are like gargoyles by the entrance of some strange temple and are a prelude to what lies beyond the warehouse doors.
Many craft brewery taprooms are magical spaces, but this one evokes a particular sense of wonder and giddiness. Neither the bar in the center of the space nor the brewery behind it are the first things to engage your senses. On the far wall is a huge mosaic of Michael Jackson and his pet chimp made entirely out of Post-It notes. The near wall is papered over with pages from old comic books from the owner's old collection. The iconic Modern Times logo is centered on the wall and beneath it, a coffee bar, in case you missed the marquee sign saying as much. It suggests statements are not statements unless they are bold. Another marquee sign–"Mini Mart"–announces the schwag store beyond the coffee bar. Seating for the coffee bar includes a church pew. I sit and pray. I pray that coffee cures my mild hangover because I had been sampling too much great San Diego beer the night before. The coffee is amazing, I am alive again. And I am eager to taste what many locals consider some of the city's best beer here.
Vintage-style Edison light bulbs are strung from the ceiling down to the bar, reminiscent of old circus tent lights. On closer inspection, the bar base is made of stacks of old books. In a corner beyond the bar is a tall bookshelf acting as a wall between the tanks of the brewery and the tasting room. Old radios, a typewriter, a globe and other curiosities are set on top–if you are looking at the tanks, these relics of another century can hardly escape your notice. They create atmosphere and shape your mood. What decade am I in? Like "Being John Malkovich," whose mind have I entered?
The main wall opposite the bar is adorned with art. Well, velvet paintings and other work some people might deem kitsch. In this realm of bygone items refashioned to serve the tasting room, though, kitsch becomes a part of the overall design concept and is perhaps subsumed into art. This is a paradise for hipsters, designers, collectors and craft beer lovers alike. The people who launched it all as recently as 2013 are clearly having fun running a brewery and coffee roastery while pursuing the vision of something greater.
The driving forces behind the spectacle are founder Jacob McKean and Amy Krone. The former was a long-time homebrewer before he began working in an office position at Stone Brewing Company, which he left to start Modern Times. The latter is a graphic/interior designer who had previously worked in the coffee industry. From the start, Modern Times has been about both coffee and beer (and the celebration of quirkiness).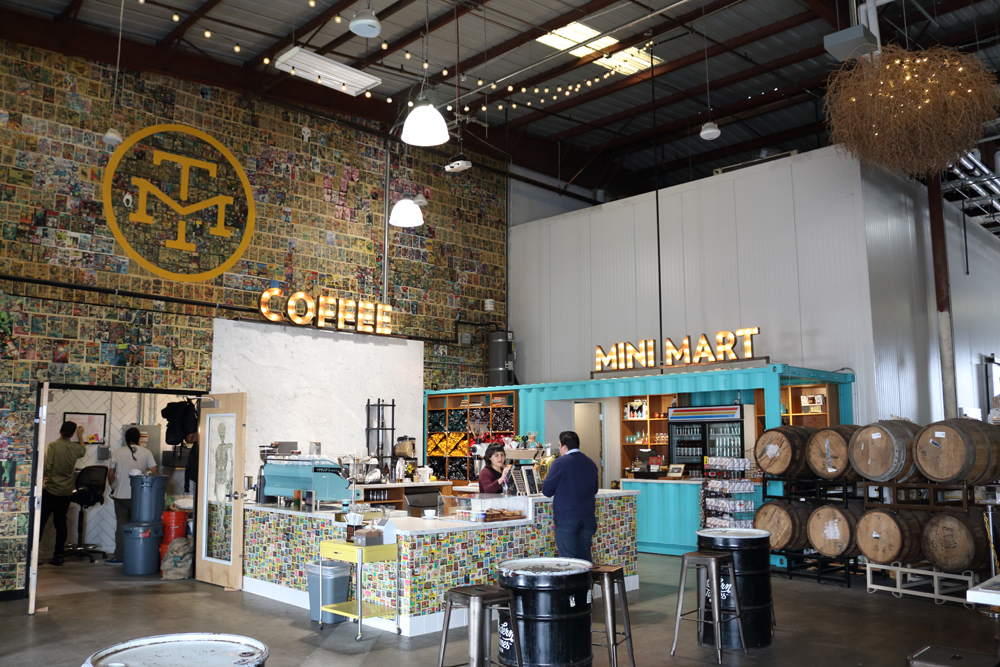 The same ethos that informs the design of the tasting room informs the beer styles. They are hybrids. Few adhere to any standard style guidelines. There are four core brands packaged in cans, with the Black House having been instrumental in helping the brewery make a name for itself. It is an oatmeal coffee stout that uses coffee roasted in-house. At 5.8% it is lower alcohol than many coffee stouts, but explodes with flavor and aromatics. Blazing World is an amber… so they say. Its abv (6.8%) and bitterness (85 IBUs) make it seem like an IPA. Its complex combination of dank and fruity hops especially make it seem so. But the lighter, breadier, amber body keeps it anchored in the amber style. Fortunate Islands is similar in that it crosses aspects of an IPA (prominent hop aromas and flavors, tropical ones in this case) with another style usually known for being orthodox or subdued: a wheat beer. Finally, Lomaland is a saison. Which means what? Saisons are traditionally pale ales with fruity and spicy aspects alike. This one delivers like a fingerprint: with uniqueness.
For those wondering–and you must be wondering–Modern Times is one of the few breweries in the world with a coffee roastery. Or, it's one of the few roasteries with a brewery. Coffee is hardly a sideshow here. In a production room behind the coffee bar is a custom-made roasting machine that they installed after their previous one couldn't keep up with the massively growing demand. Modern Times even cans some of its coffee and sells beans by the bag.
This dual identity has enabled Modern Times to pursue innovative ideas. The previous two issues of Japan Beer Times ran features on barrel-aging, describing how the process imparts the residual flavors of the spirits barrel to whatever beer is stored in it. Modern Times does this with coffee beans. Green coffee beans are apparently quite receptive to the environment of used spirits barrels, absorbing the flavors relatively quickly. City of the Dead, an export stout by style, is brewed with beans aged in bourbon barrels, resulting in incredibly rich flavor.
Modern Times also ages some of its beer in barrels and has a rapidly expanding barrel room full of fun experiments. Most are only available through their taproom or membership program, called League of the Partygoers and Elegant People. While Jacob and Amy largely set the aesthetic and philosophical direction of the brewery, Matt Walsh leads the brewing team. Incidentally, we briefly introduced Matt way back in a 2010 feature on San Francisco, when he was working at Speakeasy, another brand imported to Japan.
Modern Times has been able to parlay the success of its first taproom into new business opportunities. Its second taproom in San Diego's North Park, called the "Flavordome," shares a similar aesthetic. The primary wall mosaic is of Yoda, but created with floppy disks. Next year, the company will open two more locations, one in Los Angeles, the other in Anaheim, and it hopes to continue such expansion. The L.A. location, "Dankness Dojo," will actually be a brewpub with a full-service restaurant and coffee cafe. It will also act as a new R&D facility. The Anaheim location, to be called "Leisuretown," will be a much more ambitious project. Modern Times calls it, "the next major research facility in our ongoing investigation into the art of partying." This facility, too, will have an on-site brewery, but one devoted to sour beers. They plan on using foeders and experimental fermentation vessels (we can only wait). A cafe and restaurant will occupy an historic craftsman home on the property, which will also feature a swimming pool with poolside bar and movie screen. It sounds like a cross between the Playboy Mansion and Willy Wonka's Chocolate Factory, but for craft beer.
At the time of this writing, in America the brewery only distributes in California, Arizona and Nevada, with a week of events in New York. Consumers in Japan are lucky to have access to Modern Times' beer. Fans at select craft beer bars were even treated to a visit by brewer Matt Walsh and sales manager Phil MacNitt (see Round Up) this past autumn. If one of Modern Times' zany taprooms opens in Japan, though, we will know we are truly lucky.
---
Nagano Trading is the official importer of Modern Times in Japan.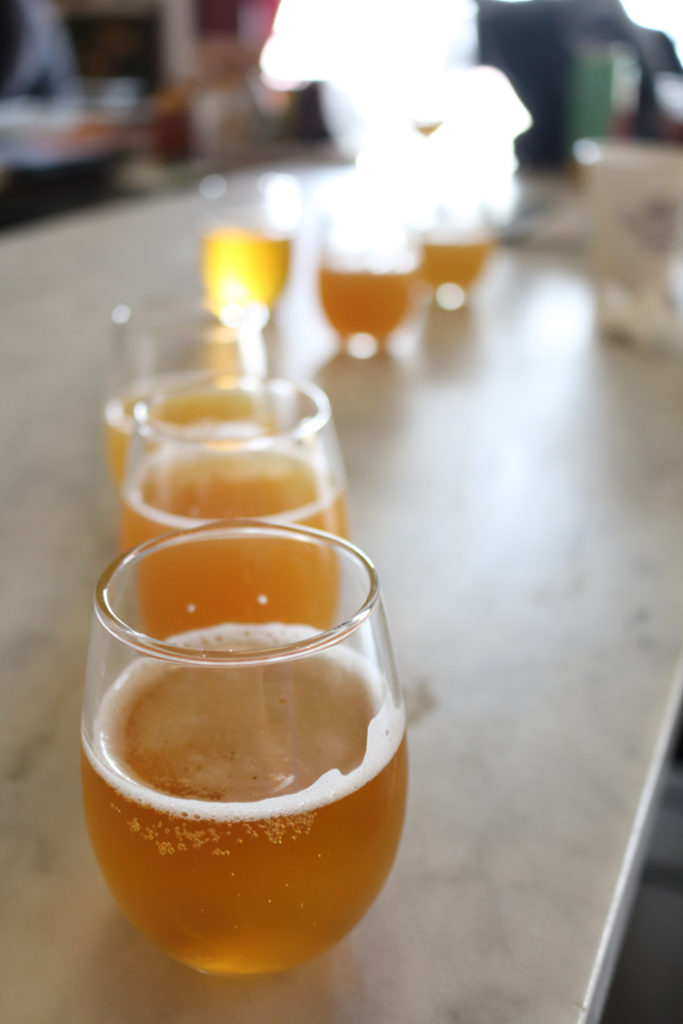 ---
This article was published in Japan Beer Times #29 (Winter 2017) and is among the limited content available online. Order your copy through our online shop or download the digital version from the iTunes store to access the full contents of this issue.