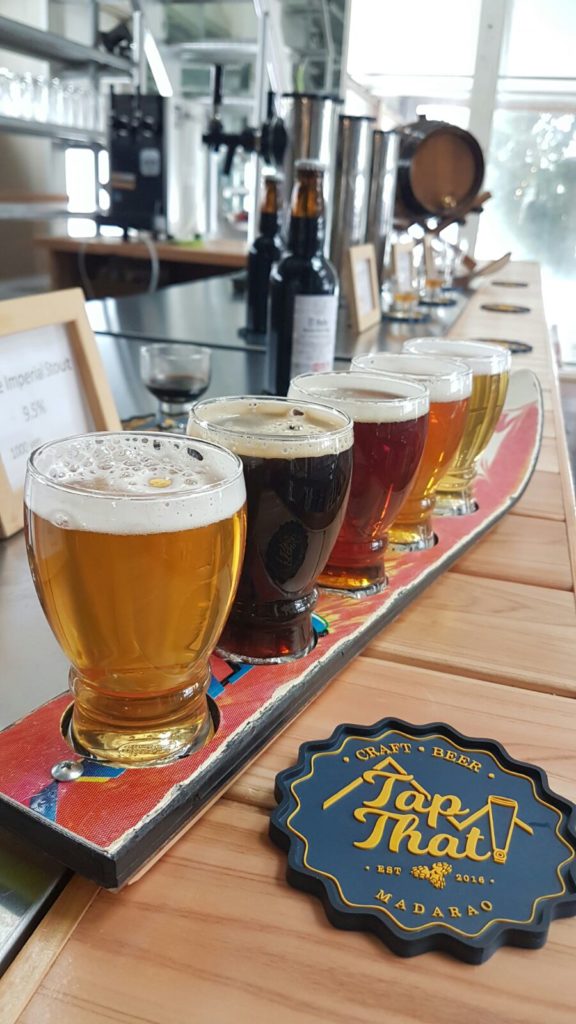 The powder is falling, the beer is calling. Recreational winter sports followed by beer with friends is a special treat of the season. Unfortunately, there aren't so many winter resort businesses in Japan that offer a good selection for craft beer enthusiasts. One came to our attention recently, however, that is definitely worth highlighting: Tap That.
Located in the newly renovated ski hotel Active Life Madarao (in Madarao, Nagano), Tap That is devoted to local Nagano breweries and hard-to-source beer. Breweries in regular rotation include top-notch players like Shiga Kogen, Oh! La! Ho and Anglo Japanese Brewery. The latter, as revealed in our feature, focuses on small-batch brews and has even begun an extensive barrel-aging program. Tap That has six taps, which strikes us as adequate given the quality of the selections and that most people are winding down after a day on the slopes, not winding up. Look for special offers where 15-ounce pours are just ¥700; otherwise, the standard price is ¥1000. Some of the rarer or high-alcohol beers are 10-ounce pours. If you're hungry–and who's not after a day of charging down the slopes?–the bar has a variety of snacks, though the hotel restaurant can cater simple dishes if you want something more substantial.
The bar is warm and cozy, accommodating perhaps no more than 30 people. When the hotel was renovated, the company cleverly repurposed old ski and snowboard equipment to decorate and furnish the bar. Snowboards, for example, now function as a benches for table seating. There are multiple TVs on the walls for watching winter sports, including your own! That's right; if you want to plug in your GoPro footage and relive your high-flying glory of the day while consuming delicious beer and hearty food, you are welcome to do so.
The hotel, as noted above, has been recently renovated, and the new rooms are spacious and quite attractive. Standard rooms (for two or three guests) start from ¥15,000, while family rooms for four start from ¥30,000. Older rooms–which are still decent and spacious–start from ¥11,000 and accommodate two guests. If you are thinking of an extended stay, definitely check out the packages that provide great value. The cheapest, from ¥56,000, includes lodging for five nights, four lift passes, and breakfast and dinner! Besides the bar and full-service restaurant with a renowned chef, the hotel of course offers the full range of ski and snowboard rentals. The chair lifts are only 100m away and you can ski or snowboard back to the hotel. Those with a heavy hankering for beer could be drinking one within minutes of coming in from the cold.
Madarao offers 30 ski runs of varying difficulty that are often dumped with world-class powder. Because the resort does not see heavy traffic, though, you could be enjoying a lot of fresh powder runs throughout the day. Additionally, the resort connects to Tangram, providing another 15 runs. You definitely will want to consider those extended-stay packages. The season lasts until April.
Further information is available at: http://beactive.life/
Email: activelife.booking@beactive.life
Telephone: (+81) 0269-67-0471
Facebook: https://www.facebook.com/ActiveLifeMadarao/