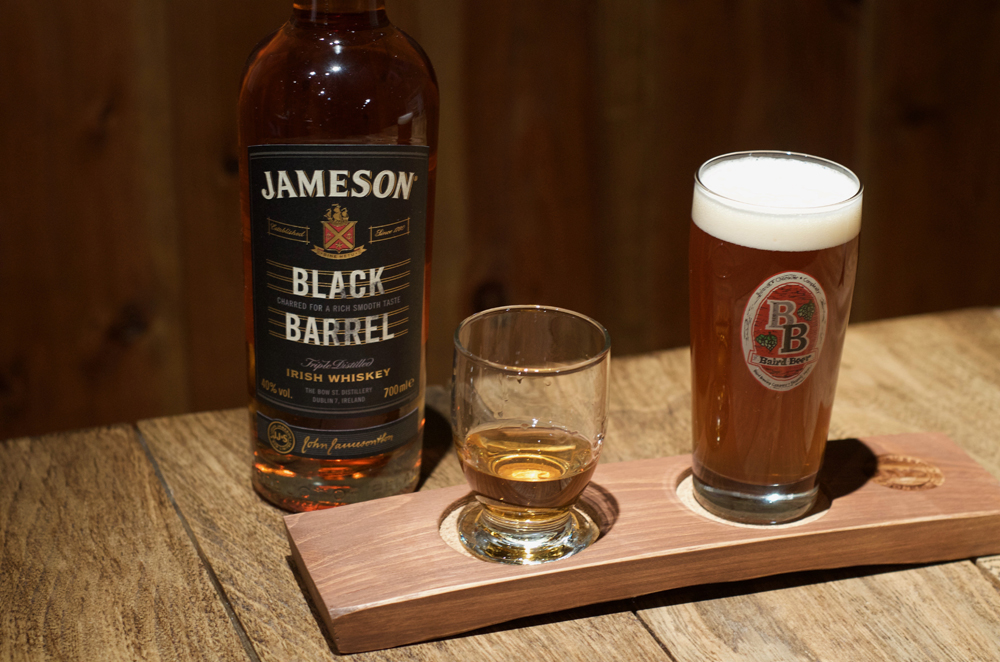 by Brian Kowalczyk
Both craft beer and fine whiskey share an origin in malt. More likely than not, fans of one are fans of the other. The grains grew up together, went to the same maltster, and then parted ways. Of late, reuniting the long lost brothers has become increasingly popular.
Recently I attended an event at Baird Beer's Takadanobaba Taproom that did just that. I have to admit, I was skeptical at first. Pairing beer and whiskey just seemed like a recipe for a rough morning after. Memories of university, of waking up near noon in a near zombie-like state after mixing hard alcohol and beer the previous evening, flooded back to me, and I wondered what I was getting myself into.
Now, of course, it greatly helps the matter when the drinks involved are of high quality. This wasn't pairing cheap whiskey with some mass-produced, industrial yellow fizz. Baird's fine craft beers were matched with some of the smoothest whiskey out there: triple distilled Jameson. I would also think that I have matured a bit since my university days, and exercising a little restraint in intake quantity and speed of consumption is somewhat more prevalent in my nights out.
While following a shot with a swig of beer is nothing new, the conscious pairing of the two drinks was a completely unfamiliar concept to me. Maybe this will come as no surprise to anyone, but the Irish have been drinking beer alongside whiskey for quite some years now. Actually, it seems, since the early 1600s. The practice originally came into being when whiskey drinkers in need of something to quench their thirst ordered a small, low-alcohol beer alongside their whiskey. Ordering a "tall and a short", a "half and half", a " beer back", or maybe the most common "beer chaser" over time became commonplace.
If you are going to be drinking the two side by side, it would make sense that they are working on the same level. Surely, you wouldn't want to pair a nice Cabernet Sauvignon with Cheez Whiz. So the guys from Jameson got together with team Baird and carefully selected the best-matching flavor profiles for the drinking public to enjoy. I am happy to report that I was more than pleasantly surprised with the outcome.
Dark Sky Imperial Stout, one of Baird's seasonal releases that I eagerly look forward to each year, was put alongside Jameson's Original Irish Whiskey. That whiskey comes off light, not peaty, with vanilla and nut flavors and a slightly spicy finish. And of course, silky smooth. As opposed to the norm in Japan of throwing back a beer first then moving on to another alcoholic beverage of choice, I opted to sip a little whiskey and follow with some beer soon afterwards while the aftertaste of the Jameson still lingered. The roasted malt flavor and chocolate hints of the stout complement the flavors present in the whiskey quite well. Sipping the beer before the whiskey just didn't seem to have the same effect, so I stuck with the whiskey first method. Maybe there really is something scientific to that old "liquor before beer" adage.
The second pairing was Baird's malt-forward Teikoku IPA with Jameson's Black Barrel. It was my first time having Black Barrel and I soon decided I would have it again. (To tell the truth, it pairs quite well with writing articles about whiskey and beer.) For a 40% ABV beverage, it's surprisingly (dangerously?) easy to drink. Black Barrel is matured in both sherry casks and twice-charred bourbon barrels. The vanilla and nut flavors are deeper than in the Original Irish Whiskey and the sherry casks impart traces of fruit. The rich aftertaste lingered well into my sip of the IPA until that malt backbone took control. According to Jameson, the floral qualities of hoppy beers make them a good mate for Black Barrel due to the sweet and fruity aroma of the whiskey.
Though I preferred the Black Barrel on its own over the Jameson Original, I was a bigger fan of the first pairing with the Dark Sky. The beer's flavor seemed heightened by the whiskey's slight bite and the hints of vanilla seemed at home with a dark beer. Though this was my preference, both pairings were a delight to drink. Different taste buds will have a different opinion of what works best for them, but simply treating them to this "research" will make them happy. I soon started wondering how a super-hopped West Coast IPA would match. How about a vanilla porter made with chilies? Looks like it may be time to hit the 'labaratory' for some experimentation.
For those embarking on this journey, note that it is more of a stroll, not a sprint. Dropping a quality whiskey in your craft beer and throwing it back is a waste of completely good product and likely a waste of your next 24 hours of life. Also, remember that while the guidelines for pairing are helpful, as the consumer, it's all up to you and your taste buds. So gather a few good friends, cue up some Irish music, sit back, sniff, sip, savor, and enjoy the trip.
(Currently, DevilCraft is also offering whiskey-beer pairings. As they rotate through their in-house beers relatively quickly, the staff choose the beers following the generally accepted guidelines: darker beers with Jameson's Original, IPA with Black Barrel.)