New craft beer bars are opening at an accelerated and exciting clip these days, especially in the Kanto area. Keeping up with each new opening has become a next to impossible task. The latest on the scene (at least as of today), TITANS Craft Beer Taproom & Bottle Shop, is one we have a very good feeling about. Co-founded by a triumvirate of "titans", importers Albert Kuwano Bakonyvari of AQ Bevolution and Beer Cats' Todd Stevens and Jeff Renshaw, expect the quality of the beverages to be top-notch.
After many months of hard work and planning, the taproom was opened to the public on August 28th. According to Bakonyvari (AKA Mr. AQ), instrumental in getting the new bar up and running was Project Manager and familiar face, Yamamoto Yasushi. Previously the manager of the World End Pub in Ueno, he was also in charge of opening new bars when he worked for Hub some years back. Yamamoto has a lot to be proud of on this project. Other familiar faces on the team are Shop Manager Azusa Kamiyama, formerly of Shibuya's PDX Taproom and also Starbucks, and the red-bearded AQ festival veteran Adam Francis, who will take over as Beer Manager.
The bar has nine taps featuring mainly AQ and Beer Cats imports, but will also dedicate a couple to guest brews. Around 100 varieties of cans and bottles will also be offered (retail sales set to begin in October). Quality wine, spirits, and java round out the drink menu, with nitro coffee owning its own tap. We're told by the titans that the the bar will be "striving for Tokyo's best gin and tonic."
Those familiar with Utsunomiya-based AQ know that they are also gyoza gurus due to their tight relationship with their sister company, Utsunomiya Gyoza. Fans of those juicy pockets of deliciousness will be happy to see them as the focal point of the food menu. Guests will also be allowed to bring in food from neighboring shops, quite uncommon in Japan.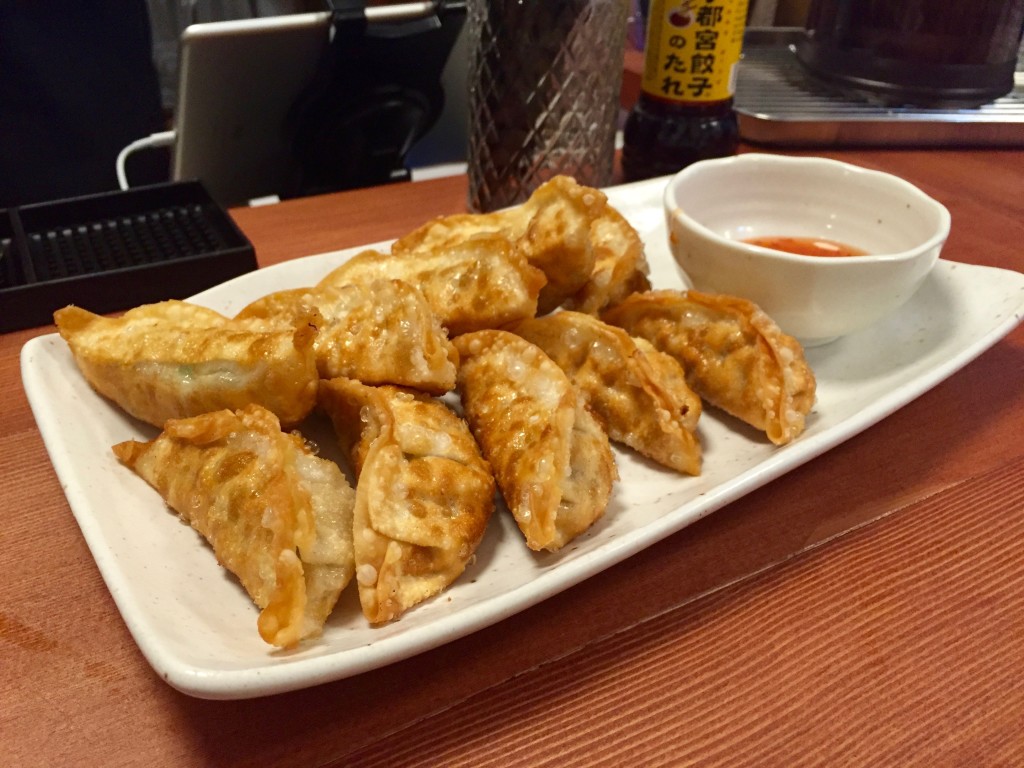 Located across the street from JR Otsuka Station, one stop from Ikebukuro on the Yamanote Line, the establishment is easily accessible from downtown Tokyo. Titans has three very distinctly different floors. Opening to the street, the first floor is primarily the taproom and bottle shop area. If you are into vinyl, Stevens liberated an old record player destined for the trash to pump out the tunes from his album collection. It now sits in the bar, much to his wife's delight. Surely to be popular, the second floor is a rather cool lounge area where customers can kick off their shoes and chill on floor cushions and throw pillows. The third floor is a more traditionally looking restaurant area with tables for groups.
Craft beer fanatics and neophytes alike will not be disappointed. Expect Titans to be a titanic success!
Info:
TITANS Craft Beer Taproom & Bottle Shop
〒170-0005 豊島区南大塚3-53-7
03-5904-9531