In the boulder-strewn valley, white steam rises from searing-hot water. It's like a valley from hell. What else could inhabit such an unforgiving place but a demon?
Japan actually has two Jigokudani ("valleys from hell") of note: one in Yamanouchi, Nagano prefecture, not far from Shiga Kogen Beer, the other in Hokkaido's Noboribetsu City. There are numerous geothermal springs and fumaroles ringing the valleys, with volcanic gases and hot spring waters spilling out everywhere. All of this is of course evidence of the volcanic activity that formed the Japanese archipelago, but it has also created the bounty of hot spring pools, geothermal heat and absolutely stunning scenery that we enjoy in these regions.
The hellish scenery brings to mind the demon's realm of "Onidensetsu" ("The Demon Legend"). "Noboribetsu Ji-Beer Onidensetsu" (hereafter, Onidensetsu) drew its name from this and launched in the city in 1998. The company behind the brewery is Wakasaimo Honpo, which also manages the sale and distribution of Japanese sweets, as well as kaiten (conveyer belt) sushi establishments in Hokkaido.
Current head brewer Shibata Yasuhiko was looking for a job that required craftsmanship and entered the sweets division of the company in the late 1980s. It was right around the time the company was expanding and he steadily made hand-crafted Japanese sweets for twelve years.
His job was fulfilling and he mused, "I could just keep on going like this, making a viable career out of sweets-making." But then his supervisor suddenly said, "How would you like a shot at brewing beer?" It was 1998 and Shibata was aware of the regulations that had passed a few years earlier allowing for the small-scale production of beer which gave rise to microbrewing across Japan. What he didn't know was that Wakasaimo Honpo had plans for their own brewery in the pipeline.
"Why me?" wondered Shibata with some confusion. His future was set on a course of making sweets, but then suddenly this offer that he'd never imagined popped up. He discussed the matter with his family and took some time to mull his decision. Eventually, he came to a positive conclusion about the prospect of making beer: "Wouldn't it be interesting to take on a rare opportunity like this with so much to learn?" A month after the offer, he accepted.
Roughly two or three months after that, he took a tour of breweries in Hokkaido to learn more about the kinds of beers his future colleagues were making. In these years before Amazon Japan, he was lucky to find a book about beer where he lived–he bought it and began teaching himself the basics. Then in July of 1998, he spent two months training at Ise Kadoya in Mie prefecture. They were using the same brewing system that Wakasaimo Honpo was thinking of buying, a Canadian-made one from Specific Mechanical Systems. Why, you may ask, this particular system? It turns out that the chairman of his company at the time was also an acquaintance of the president of Shiroyama Kanko Hotel (now based in Kagoshima), which is widely known among beer fans for the on-site Shiroyama Brewery. The latter gave an introduction to the Canadian company.
It was basically on-the-job training, with Ise Kadoya's brewers teaching him as they went along. Shibata shared his training time with Yano Manabu, who is now the head brewer of Beer Hearn (Matsue City, Shimane). In September, when his stint came to an end, Shibata returned to Noboribetsu and began brewing. His first beers went on sale in November at Noboribetsu Ji-Beer Kan, the restaurant that still occupies space above the brewery.
At its launch, the brewery produced Akaoni Red Ale, Aooni Pilsner, Shirooni White Ale and a Framboise, but just a few months later they phased out the Shirooni for Kin'oni Pale Ale, which has earned considerable esteem since. Their reason at the time was the difficulty in sourcing the malt for that particular white ale. The Framboise was Shibata's idea because he had so much experience as a sweets maker and wanted to incorporate one of the fruits used in cakes. "The aroma and color both are bold, while the beer is easy for customers to approach and understand," he explains. Since then, the brewery has added to its line-up a sweet strawberry beer and Sicilian rouge tomato beer.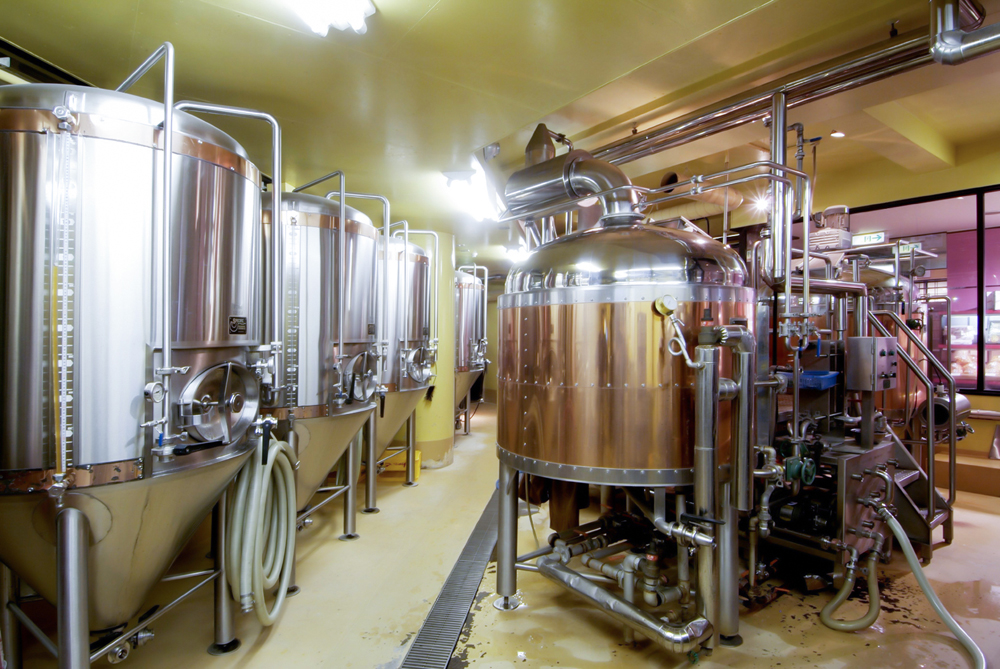 Like many breweries that launched in the 1990s in Japan, Onidensetsu could hardly keep up with the pace of sales from their brewery restaurant, their retail shop and the sushi joints operated by their parent company. "We bottled and bottled," says Shibata, "but it just wasn't enough."
They soon started canning and selling at retail locations in the Noboribetsu hot springs area, as well as Shin-Chitose Airport, which is a major gateway to Hokkaido. Their early cans were 500ml, but they dropped those down to 330ml to better service local hotels, convenience stores and liquor stores.
The yearly production volume steadily grew from the brewery's launch in 1998 to reach 130 kiloliters a year in 2001. Looking back on those days when it was just Shibata and two other staff members, he says, "Quite honestly, it took everything we had just to make all the beer. We didn't have time to investigate quality adjustments." Thereafter, however, production volume declined more than half, to just 60 kiloliters a year. The company told him, "Keep making it like you were, dammit," but Shibata instead took a hard look at quality improvements.
"That fall in consumer demand was a clear sign that a new era was dawning where people were paying more attention to the quality of microbrews. In anticipation of that, I knew that we had to do something to improve."
The first beer to reflect both consumer feedback and Shibata's renewed efforts at quality was his revamp of the Kin'oni Pale Ale. By 2007 breweries in Japan that made IPAs were on the rise. Working the business side as well, Shibata was visiting nationwide bar retailers, where he took an interest in the prominent hop characteristics of IPAs. He felt, however, that the alcohol level and body was too much for enjoying several rounds. That's when he struck on the idea of brewing a beer so that it featured hops without so much alcohol or body. The new Kin'oni was born as a result.
His experiments led him to discover the fascination of working with hops. He decided to send out kegs with different hop varieties and the type of hop clearly labeled on the kegs. Each Kin'oni has a slightly different taste depending on the hops used, but always an overall impression of "tension." By that, I don't mean that it imparts any tension to the drinker, of course. Rather, there is definitely prominent hop character, with tension created through the delicate balance with alcohol and malt sweetness. Whenever I drink it, I always find myself remarking how elegant a beer it is.
The first place to begin ordering Akaoni and Kin'oni kegs around this time was Beer Cafe Barley in Nishinomiya City, Hyogo. Qbrick in Osaka and Enibru in Sakai City began carrying kegs soon thereafter. Basically, the first major metropolitan area to introduce Onidensetsu's beer to the public was Kansai, but with the rapid growth in beer bars in the greater Tokyo area these past two years or so, orders have spiked in this region as well. Most places first put on Kin'oni, following later with orders of Aooni Pilsner and Akaoni Red Ale as well.
What Shibata stresses most in brewing is careful attention to each and every step of the process without making any compromises. "There are many steps in the brewing process that simply take time. If, when handling any of them, you start to think, 'I don't really notice much effect in the flavor so I guess I can probably skip this,' then you start to become lazy. It's hard to improve quality. Even though I may have a certain process for mashing, each time I'm tweaking it a little and aiming for steadily better quality."
Shibata's right-hand man is another brewer by the name of Yamamoto Akinori. Yamamoto joined the brewing team shortly after the company began brewing and is also a veteran of the industry. With each batch, if he notices any difference in the consistency of the malt, he may adjust the mill and, like Shibata, look for some way to improve the process.
Beginning in 2013, the brewery has thrown an Onidensetsu Beer event every February 3rd, or Setsubun (the day before Spring) in Japan. Traditionally, this day has included a special ritual to cleanse evil and drive away demons for the year to come. At the heart of the bar event, Shibata visits participating bars to interact with customers. The participating bars, of course, serve as many Onidensetsu beers as they can. The first place this was held in 2013 was Beer Cafe Hopman, located in Chigasaki, Kanagawa, followed by Ant 'n Bee in Roppongi the next year, and Watering Hole in Yoyogi, Tokyo in 2015. This year, Saitama City's Beer Hunting Urawa took part in the festivities.
Tashiro Kousei, the owner of Beer Cafe Hopman who first planned the Setsubun event, says, "From the time we opened we've almost always had Kin'oni on tap here, and taking note of the relationship between demons (oni) and Setsubun, I offered to run an event. Mr. Shibata is full of life and his beer is close to our hearts."
Other breweries commented on Shibata's character as well. Nakanishi Masakazu, who was at Ise Kadoya at the time Shibata was training there, and who is now a brewer at Y. Market Brewing (Nagoya), said, "He really exhibits the sensibilities of an artisanal sweets maker. Using fruit puree is his forte so he's a great resource when it comes to brewing with that. In talking with him, you really get the sense that he's always striving for improvement and as a brewer I can completely relate to that."
In 2015 Shibata did a collaboration beer with Y. Market's other brewer, Kachi Makoto, who commented, "Even though he's a senior colleague with lots of experience, he's down-to-earth and easy to talk to. He can be quite an audacious brewer and yet the beer comes out stable and delicious from any perspective. I learned quite a bit through the opportunity to do this collaboration beer with him."
Onidensetsu is now served all over Japan's large metropolitan areas. As with all breweries, though, we highly recommend you make the trip to the brewery itself. The brewery and an adjoining restaurant is located in Wakasaimo Honpo's Noboribetsu east branch, near JR Noboribetsu Station in the middle of the Noboribetsu hot springs resort area. Naturally, you can enjoy their lineup on tap at the restaurant, or grab bottles from the retail shop. There's also a tasting bar where you can try one of the beers out. Otherwise, savor their fresh brews at beer pubs throughout Sapporo City in Hokkaido.
by Kumagai Jinya
---
This article was published in Japan Beer Times #26 (Spring 2016) and is among the limited content available online. Order your copy through our online shop or download the digital version from the iTunes store to access the full contents of this issue.