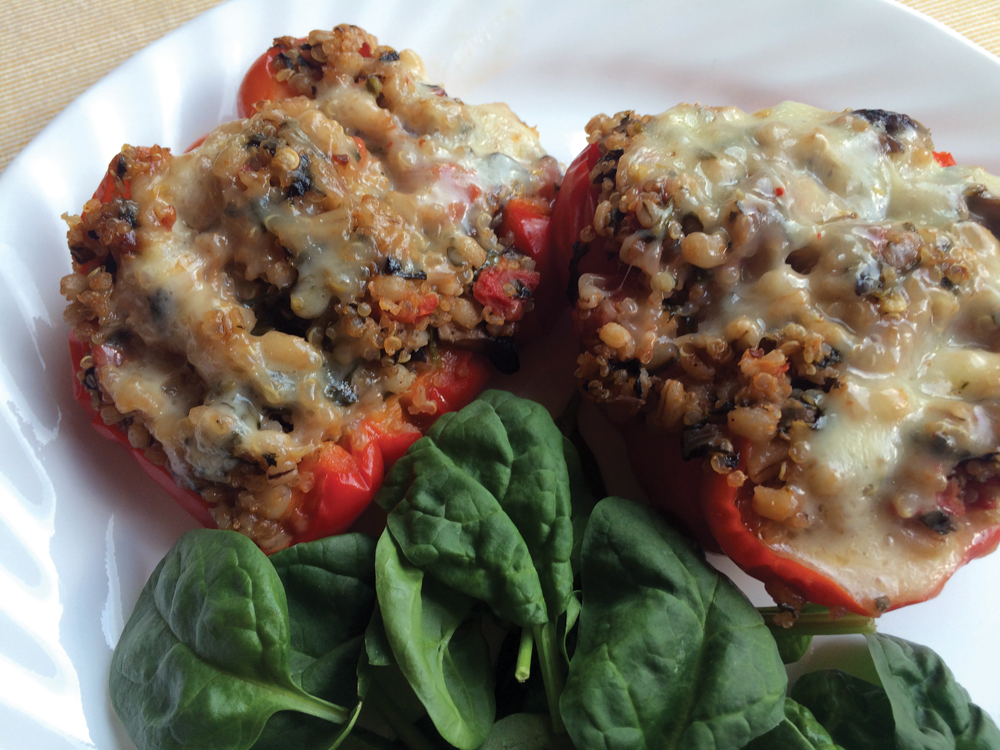 Ingredients
½ can vegetable broth
½ can beef broth
1/3 cup quinoa
1/3 cup quick-cooking barley
2 tablespoons olive oil
2 cloves minced garlic
1 medium chopped onion
2 cups sliced fresh mushrooms
1 can diced tomatoes, drained
3 cups fresh spinach
1/4 teaspoon salt
1/4 teaspoon ground black pepper
1 1/4 cups shredded pepper jack cheese (or cheddar or monterey cheese and a handful of chopped jalapeno pepper slices)
3 large red peppers
Instructions
1. Preheat oven to 400 degrees F (200 degrees C).
2. Bring vegetable and beef broth to boiling in a saucepan.
3. Add barley and quinoa. Return broth to boiling then reduce heat. Cover and cook for about 12 minutes.
4. Drain the mixture but reserve 1/3 cup of the liquid. Set aside.
5. In a large skillet, cook onion and garlic in hot oil over medium heat for a couple of minutes.
6. Add mushrooms then cook until tender.
7. Add tomatoes, spinach, salt and black pepper.
8. Stir in quinoa mixture and 1/2 cup of the cheese until combined. Remove the mixture from heat.
9. Cut peppers in half lengthwise and remove seeds and membranes from the peppers.
10. Fill halves with mixture.
11. Place peppers in a rectangular baking dish with filled side facing up. Pour the reserved cooking liquid into the baking dish around peppers.
12. Cover and bake for 30 minutes.
13. Remove the peppers from the oven and top them with the remaining cheese.
14. Bake, uncovered, for 10 more minutes or until cheese is browned.
---
This article was published in Japan Beer Times #25 (Winter 2016) and is among the limited content available online. Order your copy through our online shop or download the digital version from the iTunes store to access the full contents of this issue.