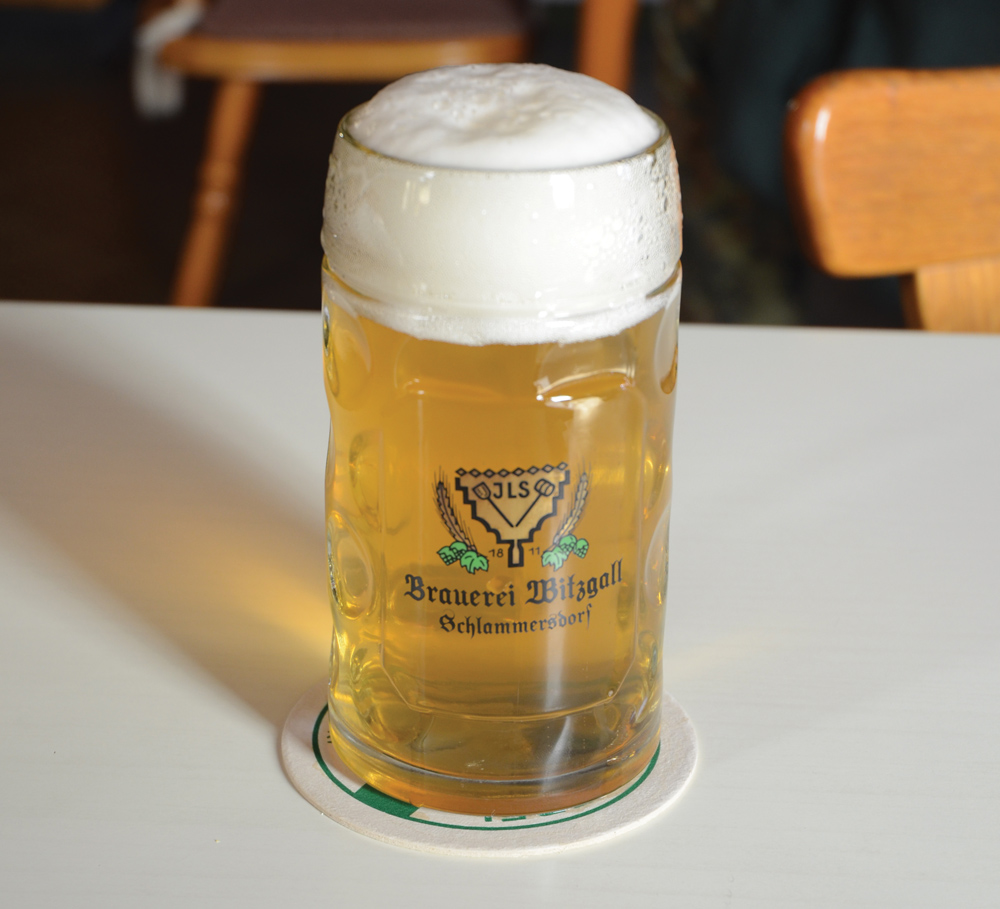 This issue, I want to discuss a stylistic group not very well known in Japan. It is a group of unfiltered, bottom-fermented lagers coming primarily from Franconia, the area around Bamberg in southern Germany, although also found more widely throughout Bavaria and Austria. As a category it describes the method of storing and serving the beer more than its recipe. As this is one of my favorite types of beer, I write this somewhat selfishly, in hope that it might inspire more Japanese brewers to brew such beers, or importers to bring them in.
The four different names above are often treated as referring to a single "style" of beer, but they have very different literal meanings. "Kellerbier" is beer made to be stored and served at a brewery keller. In Franconia, a keller is not simply a cellar where beer is aged; it usually indicates a brewery's biergarten. "Landbier" means "beer of the area" or local beer, very similar to ji-biiru in Japanese. It is beer brewed locally and made to suit the tastes of the area. "Zwickl" is the spicket on a beer fermenter, from which the brewer can draw samples. This implies a beer served straight from the tank. "Ungespundet" translates to "un-bunged," meaning that the cask was left unsealed during secondary fermentation. These are the literal meanings, but reality does not always follow language.
I'll start with an attempt to describe the basic style of kellerbier, then make some comments on how the other terms may point to something different. A Franconian kellerbier is generally a young, unfiltered and unpasteurized lager that is medium gold to pale amber in color. The malt bill falls somewhere between a helles and a märzen: alcohol is usually 4.8-5.5%, and there is a rich malt character, bready and toasty, but not overly sweet. There is also a significant hop presence, with spicy, herbal aromas and a pronounced bitter and spicy finish. As the beer is aged with yeast in it, it should be well attenuated and finish dry, yet can also have yeasty notes in the flavor, and a medium to fuller body. This is a rich, balanced, and satisfying beer, maltier and fuller than a pils, hoppier than a helles: the best of both worlds, one might say. These beers are cloudy, and were traditionally served in ceramic mugs, as they were not thought to be pretty.
Kellerbier coming from southern Bavaria, around Munich, tends to be lighter in color and less hoppy, basically an unfiltered version of a Munich helles. Bottled zwicklbier from Germany or Austria is often golden colored and lacks the hoppiness of a Franconian kellerbier. Franconian landbier is often a darker color, like an unfiltered, hoppy dunkel.
At present, it is difficult to find a good example of a traditional kellerbier in Japan. They do not travel well, and should ideally be consumed from the cask, which is usually left "ungespundet," the filling hole left open, to let CO2 escape as the beer undergoes secondary fermentation. This results in extremely low carbonation and a very small head. This lack of fizziness makes for an extremely drinkable beer that doesn't make you feel full even as you drink several liters of it. The best bottled kellerbiers with wide distribution come from Bamberg or neighboring Buttenheim and include those from St. Georgen-Bräu, Mahr's, and Löwenbräu Buttenheim. Munich-style kellerbiers are a little easier to find in Japan, particularly at our ubiquitous Oktoberfests. Look for Ayinger Kellerbier, Hofbräu Münchner Sommer, or Hacker-Pschorr 1417, but be prepared to pay for them.
Kellerbier is not a popular style for Japanese craft brewers. Perhaps the best example is from Baeren, an unfiltered version of its Classic. This is normally only available at brewery events, so to try it, you'll have to travel to Morioka. Baird produces a kellerpils, though this is more an unfiltered pilsner than a true kellerbier. Both of these are closer to the Munich variation. Another beer that comes close is Fujizakura Munich Lager, also not a true kellerbier, but an unfiltered amber lager. It does share much with the Franconian style, though it lacks the stronger hopping and is a bit sweeter. Visitors to Otaru's brewery can sample fresh zwicklbier from the tank, and though this is not a kellerbier recipe, it is young and unfiltered lager. Unfiltered Japanese craft pilsners are also close in character to kellerbier. Particularly good are those from Harvest Moon, Akashi, and Mojiko Retro. Until someone tries to make the real thing, you'll either have to be satisfied with something "close" to the original, or get on a plane to Franconia.
---
All Beer Styles articles are written by Mark Meli, author of Craft Beer in Japan.
---
This article was published in Japan Beer Times #25 (Winter 2016) and is among the limited content available online. Order your copy through our online shop or download the digital version from the iTunes store to access the full contents of this issue.