The days are short and dark. The air is cold. The only sound outside is the silence of snowfall. It's winter again. Time to kick back beside the fire, compose haiku about snowy landscapes and foxes while getting really drunk on barley wine. Shit, did we forget to buy some before our winter vacation? Time to finish the year end's work first… we bring you our report on autumn's happenings.
The year's last two major craft beer festivals–the autumn installments of Keyaki Hiroba and BeerFes Yokohama–ended without incident. We almost wish that weren't the case. We wish people had shed their clothes, held hands and sung, "We are the world." Something to make things a little more interesting. But the fact is that festivals have become routine for many people. Between early spring and late fall, there are so many that we forget what it was like when they were rare and special just a few years ago. We feel like a few could use greater variety of entertainment or something new. What do you think? How about games? In many taprooms we visit overseas we see board games and card games. What about trivia contests? Or costume contests? The increase in musical acts (assuming they're good) over the last few years was a nice trend, but now we'd like to see more games. Gladiators, bring your playing cards and dice.
Playing games with your head
In 2015 there was some speculation in the media that the government would reduce beer taxes. It doesn't seem (at least at the time of this writing) that this is going to come true next fiscal year; if we can believe the government's comments, it might be the year after that. We were always a little skeptical anyway. With uncertainty over how to keep funding social security as tax revenues fall from a shrinking workforce, it didn't seem likely the government would so quickly give up a revenue source that was relatively stable. Because you're not going to stop drinking beer, right? And certainly the increasing number of tourists to Japan aren't, either. We just hope the government figures it out soon because affordable beer should be central to social security.
We all want discounts, of course, but the situation in Japan might not be so bad. Relative to some other countries, Japanese craft beers at retail locations are not so expensive. In America, for example, pints are often $7 (or more); factor in tip and the exchange rate, and that's comparable to reasonable pints prices in many bars in Japan. Our friends in some parts of Europe tell us they're paying even more.
Tourism goes both ways
In November, Michael Hancock, the mayor of Denver, Colorado (and his entourage), visited Japan along with members of Denver Beer Company. The Wiz, a relatively new craft beer bar in Tokyo, hosted them for a reception. The city wants to promote itself in Japan as a special kind of tourism destination–yes, beer tourism. In 2014, we attended the Craft Brewers Conference in Denver and can certainly attest that it is a great city for drinking craft beer, with several dozen breweries and brewpubs within the greater metropolitan area. A number of craft breweries imported to Japan are also in Colorado state, including Avery Brewing Company, New Belgium Brewing Company, Left Hand Brewing Company and Ska Brewing. But do you know where craft beer started in Denver? With Wynkoop Brewing Company (Colorado's first brewpub), co-founded by John Hickenlooper, a previous mayor of Denver. He's now the governor of Colorado and one of the most supportive politicians in America of craft beer. This sounds like a city and state that could show you a good time if you love beer.
Japan is naturally touting itself as a destination for enjoying sake. But we all know that. It's as if Japan were to promote itself as a sushi destination, right? We think more cities or regions in Japan should promote themselves like Denver (or San Diego or Munich or Prague…). Yokohama actually did this several years ago, diverting funds to promoting beer tourism online and in a print magazine. Interestingly, craft beer in Japan got its launch because of tourism. The government relaxed brewing laws in 1994 so regional towns could make beer and attract people. Unfortunately, too many breweries did not pay enough attention to quality control, resulting in the major craft beer bust of the late 1990s. These days, we're more positive on beer tourism. And the popularity of so-called craft beer maps in Osaka, Yokohama, Niigata and Sendai proves that there's opportunity.
Beer is Big Business
Major shakeups in the beer world continue. Last issue, we reported on some significant merger and acquisition activity. This issue, it's San Diego's Ballast Point, which sold to conglomerate Constellation Brands for one billion dollars. Little, if anything, will change in its daily operations. It will still keep employing people (probably more now) and producing exceptional beers. In our Spring 2015 issue we featured the brewery, including an interview with specialty brewer Colby Chandler, one of the most respected brewers in the industry. At the 2010 World Beer Cup, Ballast Point won the Small Brewery Champion of the year award. It has been a defining craft brewery, but now that it is part of a large conglomerate, is it still craft beer? Do you care? It's a question we keep asking. And after a few bottles of Ballast Point's Tongue Buckler, a 10% imperial red IPA, we forget what we were asking…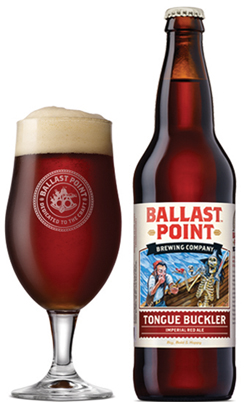 ---
This article was published in Japan Beer Times #25 (Winter 2016) and is among the limited content available online. Order your copy through our online shop or download the digital version from the iTunes store to access the full contents of this issue.