by Brian Kowalczyk
Nozawa Onsen is, in the warmer months, a sleepy hamlet at the foot of Mount Kenashi where its roughly 5,000 residents all seem to know each other. In the winter, things are much different. Hordes of skiers and boarders descend on the town as Mother Nature dumps tons of beautiful white powder, transforming it into a bustling winter playland. Visitors are apt to find (or more accurately, not find) their cars left overnight in the parking lot buried in a sea of white.
In a local soba shop in the off-season with Tom and Emiko Livesey, that small-town feel was immediately noticeable. The owners of the restaurant greet them as neighbors and other patrons inform them of their evening plans to stop by the Livesey's establishment, Libushi. Simply based on appearance, Tom stands out a little more than most in the town, but as the head brewer of Nozawa's only brewery, the Anglo Japanese Brewing Company (AJB), it's easy to see why he has gained some local celebrity status. One has to wonder who in the town doesn't know who he is.
Originally hailing from Derbyshire, Tom was raised in the heart of pale ale country, where in nearby Burton-on-Trent consumption of pale ales and English IPAs is considered as important to daily life as drinking water. Tom reminisces, "Now that I look back, I was lucky to have grown up there because we had so many amazing beers, but it just never even occurred to me. Even in the tiny village where I grew up there were half a dozen local pubs that had a few different beers and each one was really, really good."
It may surprise no one that Tom started out as a home brewer using a kit his friend acquired when they were teenagers. What may come as a surprise, however, is Tom's original course of study. At 18 he went to London to study fine art and still makes sculptures as a hobby to this day, though most of his artwork now is done in the brewhouse. To most of us, maybe there doesn't seem to be much of a connection, but in Tom's mind, the thought process is the same. Tom explains, "I see making beer as a very creative process similar to, say, coming up with a sculpture or a painting. If you wanted a simple analogy, as opposed to using paint and painting, it's using malt, hops, and other ingredients to make beer."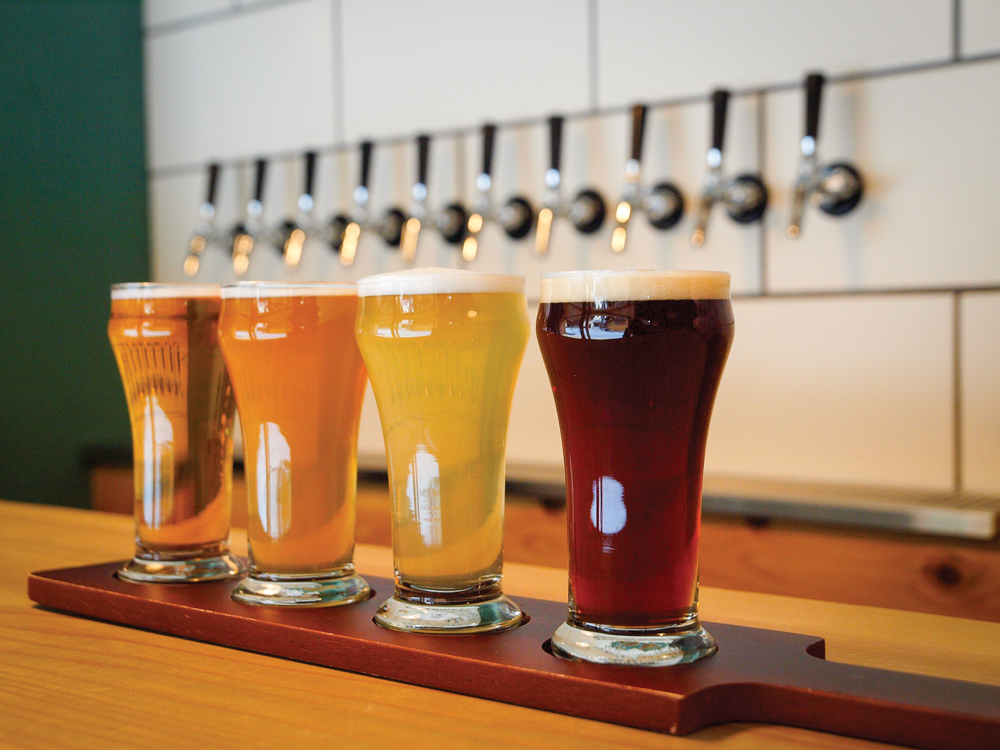 Emiko's "previous life" was quite different, too. Living in Tokyo for much of her life, with a five year stay in Hong Kong thrown in, she originally majored in international studies and moved into the finance world working for Swiss Bank. A transfer from Tokyo to London steered her onto a collision course with Tom, the aspiring artist. Two years after the move to London, she decided to escape the high-stress world of international finance before it burned her out, joining Tom on a six-month backpacking trip through Mexico, South America and Asia.
It was the kind of trip that forever alters your perspective on life. Emiko found herself ready for a change, but was not entirely sure of her next step. After they returned from a temporary life on the road, they lived with Tom's parents in the Derbyshire countryside for a year while Tom did art shows. Living in rural England got Emiko thinking about what its Japanese equivalent was like as she had only lived in big cities. In Emiko's words "I never realized until I started living in the countryside, where there are more sheep and cattle than people walking around, that that was actually the lifestyle that I wanted. So that was a kind of big turning point in my life, a real eye opener."
Tom ultimately made the push for living in Japan. He had visited Nozawa a couple times a year on snowboarding trips and fell in love with the area. In March of 2012, they moved over with one suitcase each. Emiko was worried about the perceptions conservative, small-town people might have about outsiders, but Nozawa embraced them quickly.
While trying to settle on some long-term housing, they started a business of bringing chefs over to Japan. They focussed on arranging culinary events, but that proved to take a lot of time and more money than they were ready to spend. That was the original iteration of Libushi and they eventually decided to keep the name for their bar.
Starting a brewery had never been in the conversation when they decided to move to Japan, but the dearth of satisfying local brews started to annoy Tom. "It sounds ridiculous, but I was getting really pissed off about drinking industrial draft beer every day and at the time a lot of the Japanese craft beer wasn't like what I was used to drinking in the UK. It wasn't particularly interesting to me and a lot of it was German-influenced lager. Some were incredibly well-made, but just not to my taste."
Prior to opening the brewery, Tom was brewing quite a lot in the UK on extended trips home and that, he says, "was the main impetus for opening up the brewery." That and the lack of satisfying beer. "It felt at the time it was a no-brainer. I'm spending a lot of my time brewing anyway and I can't find good beer out here, so why don't we open up a brewery?" With Emiko's background in finance well-suited to dealing with the monetary issues and the tax office, they felt they were ready.
On the 10th of January, 2014, they opened for business, a little late for the start of the ski season, but in time to generate enough interest and support for their venture. Situated in the middle of the village relatively close to the base of the ski slopes, it's a nice stop for some après ski brews. Also, directly across from the bar is the beautiful and historic Edo-era Oyu Hot Spring bath house. It's not uncommon for bathers to stop by in their robes to enjoy a beer, with the occasional waft of steamy sulfur snaking its way in when the doors open.
One of the things the couple likes to focus on in their brews is use of local ingredients. Shinshu Soba Stout, Nozawa Sour using Kawanakajima peaches, and Rhubarb Grand Cru using locally grown rhubarb, are some examples of how they've incorporated Nagano's products into their beer. Making delicious sours is one of Tom's current passions. Tom gets visibly excited talking about experimenting with yeast and bacteria, or "the bugs" as he affectionately calls them. With space for their barrel aging program finally appropriated, this endeavor will be picking up the pace soon. Tom's goal is to have a stock of fifty barrels so he can fill roughly one a week.
His original plan was always to be barrel aging, with saisons and sours, but waiting a year for their first sale was not a feasible business model for him. Over the first year they brewed close to forty different recipes with different hop and yeast variations for testing, including experiments with barrels and wild fermentation. Now they've comfortably settled on the more core recipes and are quite content with how their beers are turning out.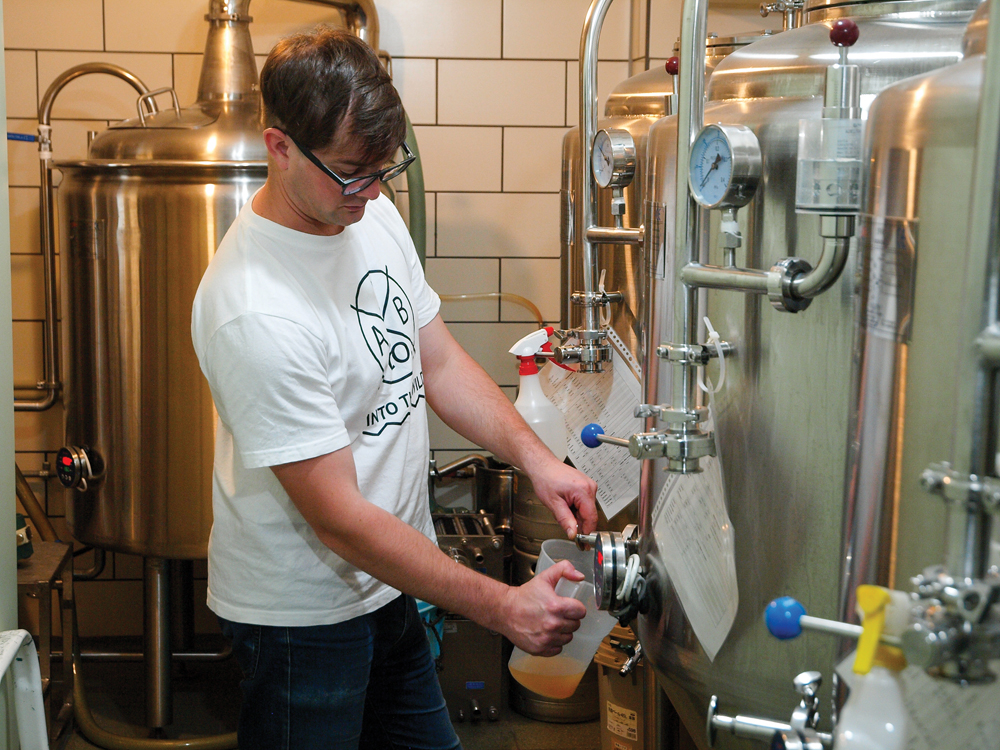 Tom reveals, "We've never intended on making apologetic beers. I find especially in Japan that when people open up a brewery, they'll make a beer that they think people will want to drink. That was never really our plan." He has no qualms about changing his mind on the spot about what they are going to brew that day. He doesn't put pressure on himself to continually make the same beer. It's an evolving process that he's comfortable to adapt as he sees fit.
Tom continues, "If I think it's an amazing beer then we continue to make it. If people want to buy it or not, that's up to them. We don't hawk our beer. We haven't approached anyone to actually sell our beer." But a significant amount of people have taken notice of AJB and approached them to purchase it. They distribute to about a dozen places and have quite a waiting list that they currently can't supply.
For the places they do supply, it's Tom's philosophy that once they have a tap in a bar, they want to keep that tap continually supplied without break. He doesn't like the idea of sending a keg or two every few months to random places that want his beer. This focus on keeping his "loyal" customers (almost entirely local) continually supplied keeps expansion very limited, but it's not something Tom is willing to compromise on. He feels that although it's frustrating not being able to increase capacity quickly, it's unfair to not consistently supply customers.
But fear not, fellow beer geeks! A barrel reserve membership program is in the works and the general public should be able to have AJB beers delivered directly to their doors sometime this winter without having to make the trip to Nozawa Onsen–though you would be missing out on some alluring scenery and great powder by foregoing the trip. The membership will be confined to around 200 in the first year due to limited supplies of aged beer, and it's hard to imagine that mailing list not filling up quickly.
Based on the couple's philosophy, the "toriaezu nama"* way of thinking just doesn't sit well with them. Emiko feels beer should be thought of for special occasions, just like you'd think about bringing a nice bottle of wine or champagne as a gift. Emiko thinks that their beers have the potential to change perceptions. "It's like how you would choose a wine. People are picky about what kind of wine they want to drink with certain food, and the temperature you serve it at, and even the glass you serve it in. Why can't beer be that?"
Because of Tom's philosophy of keeping his brewing intimate, he has no intention of scaling up exponentially. He wants to grow some, but remain a very hands-on operation. When he finally decides to increase in size, the focus will be on expanding the barrel aging and hopefully the installation of a coolship. Tom is imagining a 20hl brewhouse two to three years down the road, but has finalized nothing yet. With the help of the only other member of their staff, assistant brewer Kobayashi Shingo, who joined in December of 2014, Tom hopes to allocate some time from his busy schedule to iron out future plans.
In their small town AJB is successfully changing people's impression of beer. Some locals, who in the past wanted an industrial lager, now get "pissy" when they can't get something off the hand pump. Those that were used to drinking what Tom calls the "yellow fizz" that always came out of the server have come around, thanks almost entirely to AJB. Some regulars have told them that recently when they go to a new place they actually seek out a craft beer bar and they are appreciative of being introduced to a new world by the Liveseys. This awakening is something we have to cheer for.
Nozawa Onsen seemed remote until this past March when the Hokuriku Shinkansen was completed. Now the town is a short bus ride away from Iiyama's new high speed rail station, making the trip from Tokyo much easier. Surely, there will be an increase in visitors interested in trying local beer as the drinking public becomes more aware of craft brew culture. This bodes well for Tom and Emiko. How long will it be before people visit simply for the beer instead of a ski trip? Maybe some of you reading this are already making such plans.
---
For news on the barrel aging membership check the Anglo Japanese Brewing Company Facebook site. At the time of our interview, Emiko was 8 months pregnant. The Livesey's have since welcomed their first child, Ken, to their family. Congratulations!
---
This article was published in Japan Beer Times #24 (Autumn 2015) and is among the limited content available online. Order your copy through our online shop or download the digital version from the iTunes store to access the full contents of this issue.