Summer is over. Hopefully, your hangover is, too. We're not suggesting that you, responsible reader, drank too much during the peak of beer festival season. We just mean this metaphorically. Aren't you weary of week after week of beer festivals? Aren't you ready for the quieter days of autumn? We know many of the brewers are ready for a break.
We can't possibly report on all the dozens of festivals from this past summer (like we could do five years ago, when there were only a handful). But we would like to share some highlights and observations of a few notable ones–and other random thoughts.
Craft Beer no Jin and Tanabata Beer Festa Toyama were both a blast. Festivals under arcade roofs–Kyoto Craft Beer Festival is another–are great because of the protection they provide from weather while still offering that open-air sense of freedom. Sadly, the Tanabata festival will not continue after this year (details in Japanese on our website). But there are many arcade associations in Japan that should consider picking up the torch with a nearby brewery.
On the topic of venues, Ofuna Beer Festa deserves a shout out for choosing a cool one: the Ofuna Kannon Temple. Local vendors, musical acts, light shows… an enormous statue of the Goddess of Mercy looking down on it all. What's missing? You. Try to catch it next year.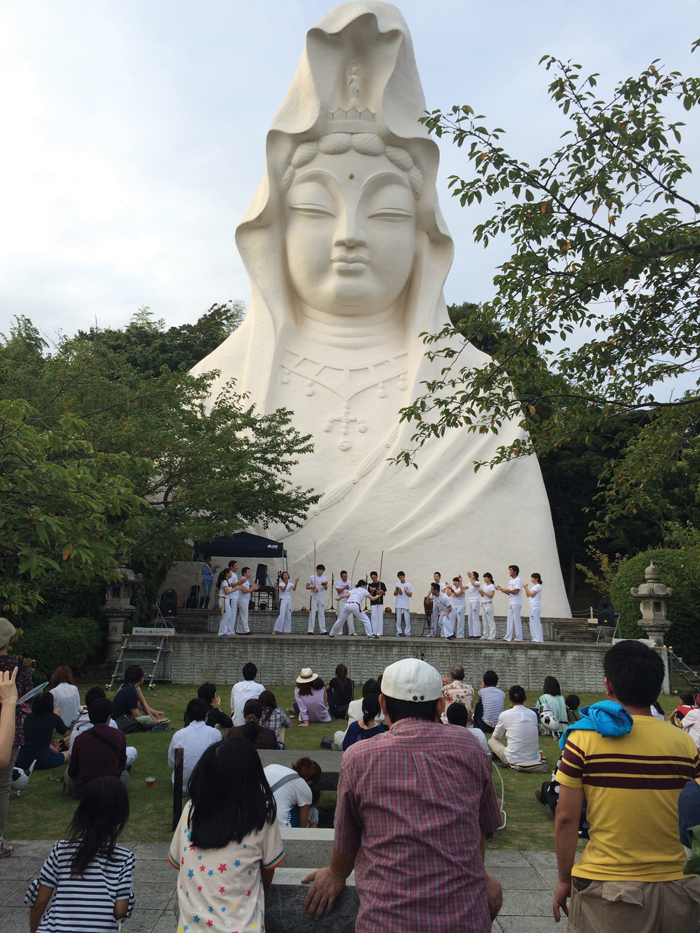 In the BeerFes series, Osaka and Nagoya demonstrated how these festivals have come to reflect the growing diversity of the Japanese beer market. Each year, there seems to be a few new import companies representing breweries, small and large, from around the world. We love 'local' but imports at a festival are fun, too.
The main street of Yoshidamachi in Yokohama was shut down for a few weekends in July and August to host some rocking block parties. Local businesses Bay Brewing Yokohama, Antenna America and Yokohama Brewery were serving beers, while Charcoal Grill and Bar Green was barbecuing at a frantic pace all day. We wish more districts in Japan hosted such fun events. They're great for revitalization efforts, too, because they often attract new people to the district.
Even department stores are getting into the craft beer action these days. The Aeon Liquor Store branch in Jiyugaoka, Tokyo held a wildly successful event where guests could taste an array of craft beers for just ¥400 total. Many happy guests also bought take-home bottles from the retailer's expanding selection. A handful of department stores, especially in Tokyo and Osaka, increasingly carry craft beer. Craft Beer Base even hosted a Hanshin Craft Beer Festa in the Hanshin Department Store in Umeda. All this is becoming the norm, not the exception. Finally.
Overseas Rumblings
On the heels of Kiuchi's plans to open a bar-restaurant in San Francisco, Coedo announced that it had opened a taproom in Hong Kong. Shortly thereafter, Baird Beer announced plans to open its first overseas taproom in Melbourne, Australia. After Yo-Ho Brewing's success with its two Yona Yona Kitchen locations in Tokyo, could they be the next to announce a similar move? All of this is a promising reverse trend after Brewdog and then Mikkeller opened retail locations in Tokyo–we of course welcome them, too, but we want to see Japanese craft thrive and find popularity overseas as well.
Two American craft beer brands imported to Japan dropped bombshells in quick succession in September. Lagunitas announced Holland's Heineken had taken a 50% stake. Then Saint Archer announced MillerCoors had acquired majority ownership. Social media backlash from many craft beer fans was quick, though beer lovers in distant regions seemed pleased by the prospect of better supply and distribution. Such M&A activity seems unlikely to slow any time soon; be prepared for more surprises in the months ahead. We're still waiting for the acquisition phone call from Rupert Murdoch or Warren Buffet.
Cover Shot Controversy
Our cover shot for the summer issue created a little controversy, with some speaking up on social media. It featured a young woman with a beer in a yoga pose. We wanted to suggest that beer can be a part of a healthy lifestyle and that it's of course not just for men. When brewers from overseas visit beer festivals in Japan, they are all surprised by the large percentage of female attendees. Appealing to them is an important aim of our magazine. Roughly half our employees are female and include a former gymnastics champion, a former ballerina and a former yogi, all of whom, incidentally, can do this pose. This cover connects with them. What doesn't is an overweight, middle-aged, bearded white man that is the stereotypical image of the beer drinker around the world. Ironically, it seems to be the middle-aged white men complaining the most about the cover. As one of our young, female writers said, "People need to calm down sometimes." But for those that are still upset, we suppose this cover to the right might appeal more.
| | |
| --- | --- |
| | |
(Featuring Warren Billups, a former Heretic brewer who's launching his own brewery, Foglight Brewing Company, in Los Gatos, CA. Photo by Candice Billups)
Be on the look-out for the next Man Beer Times, um, we mean Japan Beer Times before the end of the year!
---
This article was published in Japan Beer Times #24 (Autumn 2015) and is among the limited content available online. Order your copy through our online shop or download the digital version from the iTunes store to access the full contents of this issue.