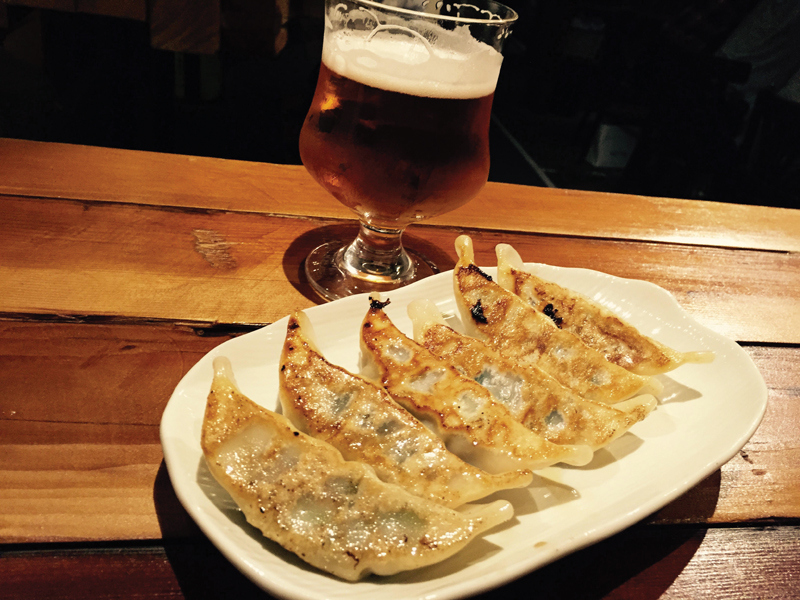 by Albert Kuwano Bakonyvari of AQ Bevolution
Gyoza became popular in Utsunomiya after WWII. A large number of Utsunomiya men who were in Manchuria and survived returned home bringing gyoza culture with them. When local gyoza makers (including AQ!) got together to form the Utsunomiya Gyoza Association in 1993, the deal was sealed; Utsunomiya became the gyoza capital of Japan!
The Gyoza "skin" separates good from great gyoza. The founder of AQ (my father-in-law) spent 50 years perfecting his recipe. Unfortunately I can't share that one with you and give away his hard-earned secret! I have shared tasty filling ideas, though, and store-bought uncooked wrappers will do fine for your first try.
---
This is straight-up, no-frills Utsunomiya gyoza as it is meant to be. Don't be afraid to use pork with higher fat content. I'm a Hungarian turning Japanese, and both the Magyars and the Yamato know that all good flavor comes from pork fat. Don't be afraid of garlic, either, the other source of great taste in gyoza.
Ingredients
400g ground pork
450g shredded cabbage
80g diced onion
60g chopped leeks
30g grated garlic
15g grated ginger
1 1\2 tbsp soy sauce
1 tbsp sesame oil
1 tsp brown sugar
1 tsp salt
1/2 tsp pepper
gyoza wrapper circles (available at supermarkets)
Instructions
Mix all ingredients by hand as if making burger patties. Put about 20g of filling in each wrapper and squeeze the dough together with your fingers. Yields about fifty gyoza.
You can boil, steam or pan fry them as you like. For pan frying, use a little oil, line the gyoza up in a very hot frying pan and wait to hear that sizzle. Then add 1/3 cup of warm water and put a lid on it. Wait until the water cooks off, remove the lid, reduce the heat and cook to golden brown perfection.
I want to say enjoy Straight-up Utsunomiya Gyoza with Epic's Straight Up Saison, but we have to wait for spring for that! For fall, how about Märzen? Left Hand Oktoberfest should do quite nicely. Cheers!
---
This article was published in Japan Beer Times #24 (Autumn 2015) and is among the limited content available online. Order your copy through our online shop or download the digital version from the iTunes store to access the full contents of this issue.