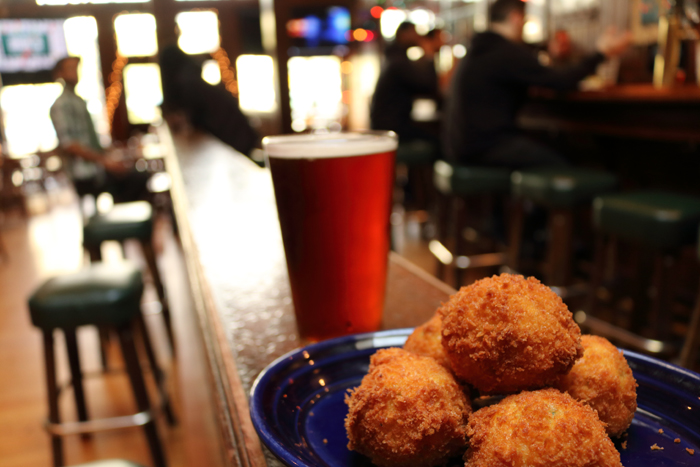 Ingredients
2 tbsp kosher salt (for boiling)
2 cups dried elbow macaroni
¼ cup unsalted butter
¼ cup flour
3 cups heavy cream
3 large cloves roasted garlic*
Pinch of nutmeg
½ tsp chili flakes
1 cup mozzarella, grated
1/3 cup aged asiago, grated
1/3 cup fontina, grated
1/3 cup yellow cheddar, grated
½ tbsp kosher salt
1 tsp fresh oregano, chopped
1 cup scallions, chopped
8 cups panko, pureed fine in a blender
4 eggs, beaten
Extra flour for dredging
Instructions
1. Cook pasta in salted boiling water for about 12 minutes. Strain-rinse in cold water. Set aside.
2. In a large saucepan, melt butter over low heat. Add roasted garlic. Using a wooden spoon, smash apart garlic into butter. Add flour and mix well. Stir constantly for 3 minutes. Do not brown.
3. Slowly add cream, ¼ cup at a time. Add chili flakes and salt. Cook for 3 minutes.
4. Turn off heat and add cheeses and scallions.
5. Mix cooked pasta into cream sauce.
6. Pour mix onto a small sheet pan and chill until cold.
7. Form mac and cheese balls (golf ball-size) by hand. Roll balls in flour, shake off excess. Dip in beaten eggs. Roll in panko. Then again in egg and then panko.
8. Deep fry at 425 degrees until golden brown and hot throughout.
*cover raw-peeled garlic cloves with vegetable oil. Add a pinch of salt. Simmer over very low heat until soft and tender
---
This article was published in Japan Beer Times #22 (Spring 2015) and is among the limited content available online. Order your copy through our online shop or download the digital version from the iTunes store to access the full contents of this issue.